NASSAU, Bahamas, November 23, 2015

– World sprint champions Usain Bolt and Shelly-Ann Fraser-Pryce copped the major titles as Jamaica won five of the six categories in the second Annual Caribbean Sports Awards, organised by the Caribbean Sports Journalists' Association (CASJA).

Bolt was unanimously chosen as the sportsman of the year, beating Paralympic athlete Akeem Stewart of Trinidad and Tobago and O'Dayne Richards of Jamaica.

Bolt successfully defended his titles in the 100m, 200m and 4x100m at the IAAF World Championships in Beijing last August. The Jamaican sprinter clocked a world-leading time of 19.55 seconds when winning the 200m and he now owns 17 gold medals from senior global championships.

Stewart won two gold medals at the Parapan Am Games in Toronto where he set world records in both the discus (63.03m) and javelin (53.36m) events in the F44 categories while Richards won Jamaica's first ever World Championship medal in a throwing event, taking bronze in the shot put at the IAAF World Championships.

Other contenders were Kirani James (Athletics) of Grenada and Machel Cedenio (Athletics) and George Bovell (Swimming) of Trinidad and Tobago.

The judges chose Fraser-Pryce for the sportswoman of the year from a list of 11 nominees including runners-up Yarisley Silva of Cuba and Alia Atkinson of Jamaica.

Fraser-Pryce continued her sprint dominance to win gold medals in the 100m and 4x100m in Beijing including anchoring Jamaica's 4x100m relay team in a championship record time of 41.07.

Silva won the pole vault gold medals at the Pan American Games and then rebounded from near elimination to clear 4.90m for the podium in Beijing.

Atkinson became the first black woman to win a world swimming title when she triumphed in the 100m breaststroke at the world short-course championships in Doha last December and then claimed the bronze in the 100m breaststroke at the long course World Championships in Kazan, Russia. She also won silver in the same event at the 2015 Pan American Games in Toronto.

The other nominees for the sportswoman of the year award were Jamaicans Stafanie Taylor (Cricket) and Danielle Williams (Athletics); Shaunae Miller (Athletics) of the Bahamas; Akela Jones (Athletics) of Barbados; Denia Caballero (Athletics) of Cuba and Trinidad and Tobago track and field athletes Kelly-Ann Baptiste, Michelle Lee Ahye and Cleopatra Borel.

Jeffery Gibson of the Bahamas and Danielle Williams of Jamaica were voted the top Rising Stars in the Caribbean.

Gibson won the 400m Hurdles gold at the Pan American Games in Toronto and then set a national record of 48.37 for the bronze at the IAAF World Championships. Cedenio and Richards were Gibson's main challengers for the award which included Barbadian and West Indies cricketer Kraigg Brathwaite; Open Water Swimmer Christian Marsden and Cyclist Akil Campbell of Trinidad and Tobago; Cuban long jumper Maykel Masso and Jamaican junior athletes Akeem Bloomfield and Christopher Taylor.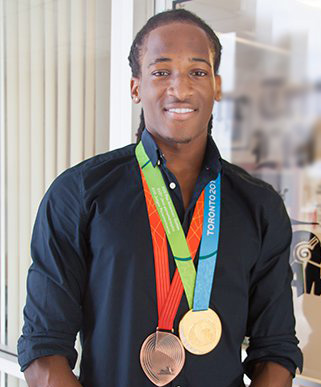 Rising Star - Jeffery Gibson of The Bahamas (Photo: TheBahamasWeekly.com / Mackey Media)


Williams' recognition as the top emerging female star was unanimous among the judges, ahead of fellow competitors, Shericka Jackson of Jamaica and Khalifa St Fort of Trinidad and Tobago.

Williams won gold in the 100m hurdles in a personal best 12.57 seconds at the IAAF World Championships in Beijing. Jackson ran an impressive personal best of 49.99 seconds to claim the bronze medal at the same event while St Fort, at only 17, won the silver medal in the 100m at the IAAF World Youth Championships. She ran three personal best times in just over nine hours 11.39, 11.24, 11.19, setting a new national Under-18 record in the process. She was also a member of the 4x100 relay team which won bronze at the IAAF World Championships.

Jamaican relay teams dominated the Team of the Year categories with the quartet of Nesta Carter, Asafa Powell, Nickel Ashmeade, Usain Bolt taking the Male Team of Year for the 4x100m gold at the IAAF World Championships in a world leading time of 37.36 seconds.

Trinidad & Tobago's 4x400m relay team which won the gold medal at the Pan American Games and the silver at the World Championships settled for the runners-up spot followed by Jamaica's 'Reggae Boyz' who finished as the beaten finalist at the CONCACAF Gold Cup Tournament, losing to Mexico in the final.

The Barbados Cricket team and the two-man beach volleyball team of Fabien Whitfield and Daneil Williams of Trinidad and Tobago were also nominated.
The 4x100m championship record team of Veronica Campbell-Brown, Natasha Morrison, Elaine Thompson and Fraser-Pryce copped the Female Team of the Year.

They beat out compatriots Shericka Jackson, Christine Day, Stephenie Ann McPherson and Novlene Williams-Mills, the 4x400m gold medallists and the West Indies Women cricket team which won the 2015 series against the touring Pakistan Women.

The other nominees were the Jamaica National Netball team and the 4x100m Relay, Senior National and Under-20 Football teams of Trinidad and Tobago.
The nominees were selected by sports journalists across the Caribbean and the winners were chosen by a six-member judging panel consisting of Olympians Tonique Williams of the Bahamas and Ato Boldon of Trinidad and Tobago, former World Cup and English Premier League footballer Shaka Hislop of Trinidad and Tobago and journalists Terry Finisterre of St Lucia, Vernon A Springer of St Kitts and Nevis and Kayon Raynor of Jamaica.
With the absence of the Olympic Games in 2015, the judges focused on distinguished achievement, honour or world record achieved at the World Championships, Pan American Games or similar high level of competitions in their respective sport to arrive at the winners.

WINNERS 2015 CASJA AWARDS:

SPORTSMAN OF THE YEAR
Winner: Usain Bolt, (JAM) - Athletics
1st Runner-Up: Akeem Stewart (TTO) - Paralympic Athlete
2nd Runner-Up: O'Dayne Richards (JAM) - Athletics

SPORTSWOMAN OF THE YEAR
Winner: Shelly-Ann Fraser-Pryce (JAM) - Athletics
1st Runner-Up: Yarisley Silva (CUB) - Athletics
2nd Runner-Up: Alia Atkinson (JAM) - Swimming

RISING STAR MALE
Winner: Jeffery Gibson (BAH) - Athletics
1st Runner-Up: Michael Cedenio (TTO) - Athletics
2nd Runner-Up: O'Dayne Richards (JAM) - Athletics

RISING STAR FEMALE
Winner: Danielle Williams (JAM) - Athletics
1st Runner-Up: Shericka Jackson (JAM) - Athletics
2nd Runner-Up: Khalifa St. Forte (TTO) - Athletics

TEAM OF THE YEAR MALE
Winner: Jamaica 4x100m Relay Team - Athletics
1st Runner-Up: Trinidad & Tobago 4x400m Relay Team - Athletics
2nd Runner-Up: Jamaica's Senior Reggae Boyz - Football

TEAM OF THE YEAR FEMALE
Winner: Jamaican 4x100m Relay Team - Athletics
1st Runner-Up: Jamaican 4x400m Relay Team - Athletics
2nd Runner-Up: West Indies Women's Team - Cricket