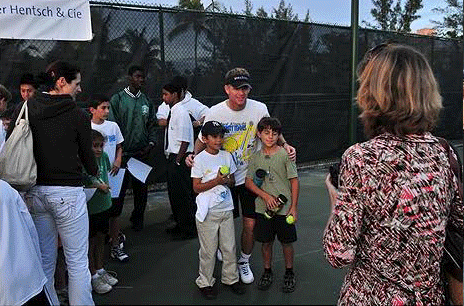 SLIDESHOW photos by Matt Dunn


Paradise Island, The Bahamas - Mark Knowles , born in Nassau, is a professional tennis player. He was awarded All American honours at UCLA in both singles and doubles. His highest singles ranking on the ATP was World No. 93. He has been very successful in doubles partnering with Canadian Daniel Nestor. The pair have won the Australian Open, the USA Open, and the French Open. Mark is known for his "quick hands and unbelievable volleys."

On July 5, 2006, Knowles participated in the longest match in Wimbledon history, lasting 6 hours and 9 minutes. Knowles has also played singles and doubles for the Bahamas Davis Cup team for more than 13 years and he is a four-time Olympian.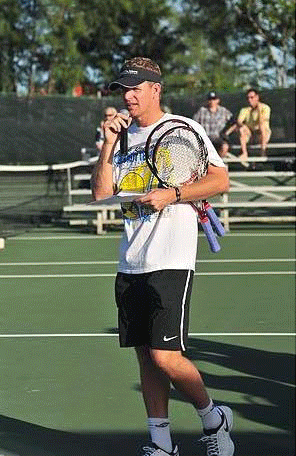 In December 2001, Mark launched the first Mark Knowles Celebrity Tennis Invitational in Paradise Island in order to support different Bahamian charities. Andre Agassi, James Blake and a host of high profile tennis players have hit the courts in the past and this year will be just as an important event with some big names.
Everyone was encouraged to come out and support the worthy cause, and catch some great tennis action.
All took place at the Atlantis Tennis Centre, and children entered free of charge.
TEAM 1 (Bahamas Pirates): SABINE LISICKI, MARK KNOWLES, KEI NISHIKORI, RYAN SWEETING, HUGO ARMANDO, and Coached: BRENT HAYGARTH
TEAM 2 (World Wanderers): MICHAELLA KRAJICEK, XAVIER MALISSE, ALEX KUZNETSOV, DON JOHNSON, AMER DELIC, and Coached by DEAN GOLDFINE
Matches were a 5 game pro set with no ad scoring and a 9 point tiebreaker at 4 games all.
The team with the most games wins the 2008 Bahamas World Team Championships!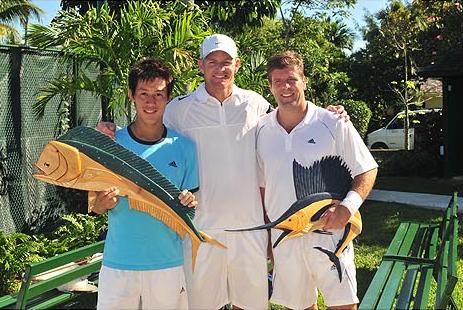 Winners of pro/am with Mark Knowles from left to right Kei Nishikori, Mark Knowles, Jeff Everett. Photo: Matt Dunn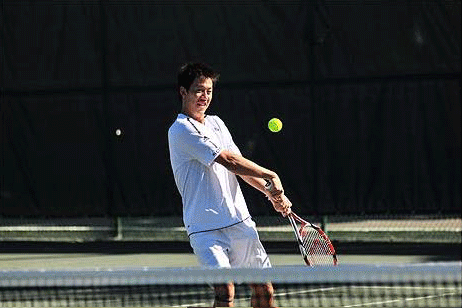 SLIDESHOW: Overall winner of the Mark Knowles Celebrity Invitational 2008. This 19 year old Japanese player was the one to watch on the courts. Photos Matt Dunn
EXHIBITION RESULTS
Here was the match Schedule and Results for Friday 5th December 2008:
The over all winner was Kei Nishikori.
Match 1: Sabine Lisicki beat Michaella Krajicek 5 games to 2
Match 2: Mark Knowles/ Ryan Sweeting b eat Alex Kuznetsov/ Don Johnson 5 games to 3
Match 3 Xavier Malisee beat Kei Nishikori 5 games to 1
Match 4 Amer Delic / Michaella Krajicek beat Sabine Lasicki/ Hugo Armando 5 games to 2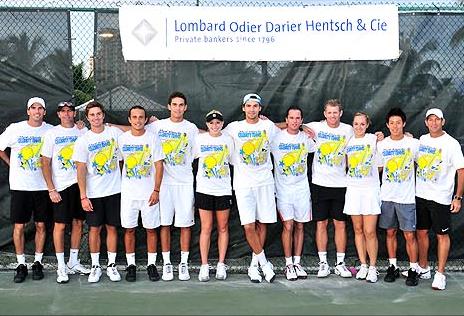 Photo: Matt Dunn