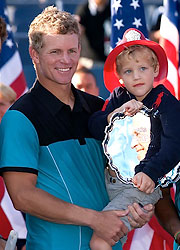 © Fred MullaneKnowles holds son Graham after playing the 2009 US Open final with Mahesh Bhupathi.

New York, USA - Alexander Graham Bell, inventor of the telephone, famously said, "When one door closes another door opens; but we so often look so long and so regretfully upon the closed door, that we do not see the ones which open for us."

Mark Knowles defies Bell's quote. The 41-year-old has been peering into a second door the past two seasons. As his family grew, both in size and in priority, the Bahamian embraced the door in front of him with open arms, decreasing the significance of his career ambitions. Opting to play a limited schedule in 2012 to spend more time with his family, Knowles decided to complete the chapter on his playing days at the US Open, announcing his retirement from professional tennis following a career spanning more than 20 years on the ATP World Tour.

"Tennis is one of the greatest sports in the world. It teaches you so much about life," reflects Knowles. "It has given me so much and I am sure that I will always be linked to the great game in some capacity. I would like to thank all of my great partners and opponents from over the years for the library of memories. I can still remember qualifying for my first ATP singles event in Indianapolis in 1988 like it was yesterday. It was cool to be an ATP player then and it has only become cooler. I wish all of my colleagues continued success and I will be following your progress in between changing diapers!"

While Knowles didn't write the perfect ending to his story on court in New York with a trophy to take home, he has composed the perfect beginning to his sequel as the dad who wants to do it all. Married since 2003 to wife Dawn and father to sons Graham (soon to be 7) and Brody (4), and daughter Presley (1), Knowles has always been involved in the daily life of his children, whether he's coaching Graham's peewee football team, picking Brody up from preschool or putting Presley to bed. It's those everyday activities that simplified his decision to hang up his racquet.

"It has been an incredible journey and one that I look back on with no regrets, except for maybe a few match outcomes. I still have a love for the game and enjoy the thrill of competition and feel that I could still win a few more titles," says Knowles. "However, the title that has become the most important to me over the last few years is that of being the best husband and father to my family. I have truly been blessed and want to shift my focus full time to my wife and kids. I used to think that there was no greater joy than winning big tournaments but then I had kids and realised that this is the greatest joy of all."
The Nassau, Bahamas native completed his career with a 744-380 doubles record, highlighted by reaching 13 Grand Slam finals. He captured titles at the Australian Open in 2002, US Open in 2004 and Roland Garros in 2007, all with Daniel Nestor and the 2009 Wimbledon mixed doubles crown with Anna-Lena Groenefeld. Knowles also won the season-ending championship in 2007 with Nestor and was a five-time Olympian.
"He's got unbelievable doubles instincts. He has great returns, especially on the backhand, with one of the best one-handers in the history of doubles. He has unbelievable feel around the net," Nestor says. "I like to think some of the creativity I've learned over the years comes from playing with him for so long. He really taught me a lot about net play and doubles instincts.
"I'm really appreciative because he was already established when we started playing together. He took me under his wing. We hit it off from the beginning and had some great results. We had a long career together."
Mahesh Bhupathi, who reached two Grand Slam finals at the Australian Open and US Open with Knowles in 2009 says, "What Mark has achieved on the court speaks for itself but his friendships off court and the respect he has earned from all his peers speaks volumes about the kind of guy he is. I for one will miss him and wish him, Dawn and kids nothing but the best always."
Max Mirnyi, a longtime competitor and friend, reminisced about Knowles' days as both a singles and doubles player. "We've had so many battles over the years on the doubles court but very few people know that Mark denied my first Grand Slam appearance in singles when he beat in the qualification of Australian Open in the mid '90s. At that moment I felt that 'this guy is a special player.'
"In a later stage of our careers, I had the great pleasure of teaming up with Mark, already then a legendary doubles player. While his regular doubles partner was injured, we shared a wonderful winning experience at a tournament in Doha during that time. I display that trophy picture with Mark at my house among other Grand Slam trophy moments, simply because I am proud to have had Mark as my partner. As a family man, I can only share the same joy as Mark, spending many days together on the road and seeing our wonderful families grow."
Knowles ascended to the No. 1 ATP Doubles Ranking on 24 June 2002, spending a total of 65 weeks atop the chart for 12th place on the all-time list, and finished as the year-end No. 1 in 2002 and 2004. He ended the season ranked inside the Top 10 on 11 occasions and along with Nestor in 2002 and 2004, was named ATP Doubles Team of Year. From 2002 to 2004, Knowles served as Vice President on the ATP Player Council.
"At one point in his career he led the ATP Player Council during most volatile time for men's doubles," states Mirnyi. "The reason why the game of doubles is growing today is widely due to his great efforts as a leader to help unite the player body, tournament representatives, sponsors, TV and Tour officials to find that optimal decision for the game of doubles to live on. As a result, the shorter and more dynamic score format that was adapted for doubles has proven to be the most exciting change in modern tennis history."
This season, Knowles lifted his 55th trophy in San Jose with Xavier Malisse, giving him at least one doubles title in 19 of the past 20 years. Furthermore, he became the first player in their 40s to win a title since John McEnroe achieved the feat in 2006. Knowles' best major result came at Roland Garros, where he and Malisse advanced to the third round, falling to Knowles' rivals Bob Bryan and Mike Bryan.
"Mark's a legend. He's one of the best players of all time," Bob Bryan declares. "I think Knowles/Nestor have got to be in the top five greatest doubles teams to play. [Knowles has an] incredible backhand return in the deuce court and scary hands. His drop volley would always catch you by surprise. He's a great guy."
With a vast knowledge of the game and adeptness in scouting players, Knowles was sought out by Mardy Fish at Indian Wells, who offered his former partner an opportunity to coach him at the tournaments they would both be competing in. The two played together full-time in 2010, triumphing at the ATP World Tour 500 event in Washington to win their second team title and the friendship they built throughout their years on tour made Knowles a perfect addition to join Fish's team.
"Mark has one of the most respected tennis minds in the sport," says Justin Gimelstob, who reached the Atlanta final and Wimbledon third round with Knowles in 2000. "He played at the highest level and understands the modern game. He is ideally suited to be a top tier coach."
Whether coaching is his next calling, or expanding his charitable endeavors in the Bahamas is next on his list to conquer, Knowles will be best remembered by the impression he left on his sport. Through his cat-like reflexes at the net, inside-out backhand return and exuberant personality, the doubles alley will forever miss Knowles' grace.
"In closing, I would like to thank everyone who has supported me throughout my career, and there have been many! None more important than my parents and my siblings. I will miss the game!"