Last Updated:

Feb 6, 2017 - 2:32:04 PM
---
Nassau, Bahamas - The Nassau Music Society continues its 2011-2012 Season with two evenings of classical guitar featuring Marco Tamayo and Anabel Montesinos, well-known, young musicians in the world of classical guitar. Concert dates are Friday, January 27th, 2012 at 8:00pm at the Bahamas Historical Society, Shirley St. & Elizabeth Avenue; and Sunday, January 29th at 5:30pm at St. Paul's Church Hall, Lyford Cay.

The concerts are under the patronage of His Excellency Sir Arthur Foulkes, Governor General of The Bahamas and are sponsored by Société Générale Private Banking, Pictet, Royal Star Assurance and Colina Insurance Limited.

Marco Tamayo was born in La Havana, Cuba, were he started to play guitar at the age of three under his father's tuition. He studied with Antonio Alberto Rodríguez and Leo Brouwer, Harold Gramatges, and later in Europe at the University of Music in Munich (Germany, class of Joaquin Clerch), and at the Mozarteum University of Arts in Salzburg were he studied with Eliot Fisk (guitar) and Rainner Schmid (violinist), among others.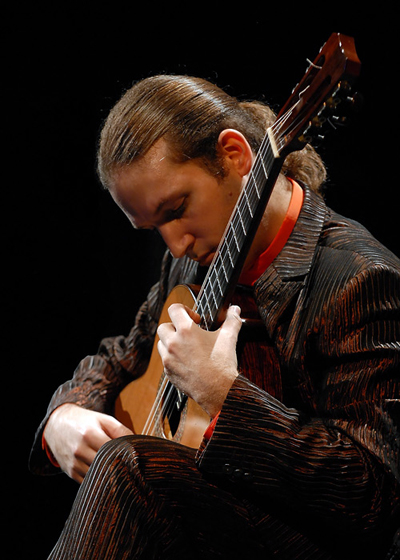 Winner of major International Guitar Competitions such as the Michele Pittaluga Intl.Guitar Competition in 1999 and the Andrés Segovia Intl. Guitar Competition in Granada, Spain, Marco Tamayo performed concerts with the Chamber Orchestra of St. Petersburg, the Philarmonic of Torino under the baton of Paolo Ferrara, the Chamber Orchestra of Aix-en-Provence (France), under the baton of Philip Bender, the Philarmonic of Tampere (Finland), the Philarmonic of La Habana under the baton of Leo Brouwer and the TransArt Orchestra of Salzburg conducted by Kurt Redel.

Marco Tamayo's recordings include one album for the Voice of Lyrics label in France, and three albums for the Naxos Classical Label. He was named Honourable Citizen of the city of Alessandria (Italy) and is the second guitarist, after Maestro Alirio Díaz, to have received this honour. He lives in Austria with his wife Anabel.

Anabel Montesinos, one of the most important personalities in the world of classical guitar, was described as a "promising star of the classical guitar" by Antón García Abril, after he heard her play at the age of fifteen. She is the winner of several international competitions such as the renowned "Francisco Tarrega" competition in Spain or the "Michele Pittaluga" in Italy. Her musical style, taste and choices of interpretation have charmed the audience at each performance.

Anabel Montesinos began her musical education at the age of five and playing guitar at the age of six. She proved to be an extraordinary child, and a few years later, when she was twelve years old, she gave a solo recital in Majorca. Anabel Montesinos has recorded for radio and television in Spain, Poland, Italy and Sweden. Numerous awards in international competitions opened the doors for her to the Naxos Classic label, where she was able to record her first album with a romantic repertoire. This CD has been hailed by the international press and was chosen by British Airlines for its music program on international flights.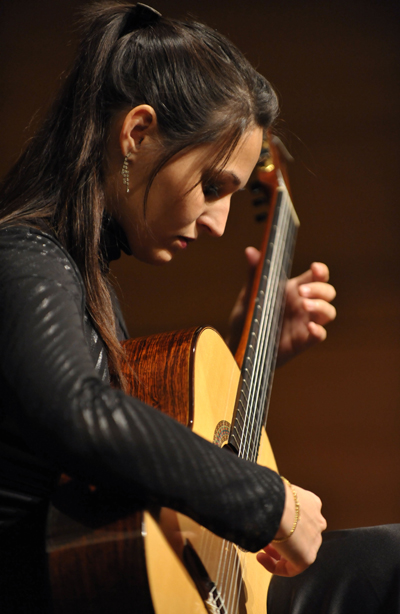 Anabel Montesinos participated in concerts with Paco de Lucia, playing the "other side of Spanish guitar," and received a standing ovation in Uppsala, Sweden.
She has performed as soloist with the Philharmonic Orchestras of Moscow, St. Petersburg, Turin, Monterrey (Mexico), Madrid, and Oulu (Finland), to name a few.
Her 2011 tour began at Carnegie Hall, where she received a standing ovation. She plays a Simon Marty guitar. Her second album, also produced by Naxos, was released in September, 2011. She is married to Marco Tamayo and the couple live in Austria.

They are expected to hold a Master Class for classical guitarists. The date, time and venue will be announced shortly. Persons wishing to participate or attend should contact Italia Watkins-Jan at the Nassau Music Society admin@nassaumusicsociety.org or Dr. Christy Lee
docchristy@gmail.com
by Wednesday, January 25th, 2012.

Reserve tickets now:
www.nassaumusicsociety.org/ reservations
. Box Offices: A.D. Hanna & Co., Deveaux Street; Custom Computers, Cable Beach Shopping Centre; Logos Bookstore Harbour Bay Shopping Centre; and Moir & Co., Lyford Cay Shopping Centre.

Tickets: Members: $25; Non-Members: $35; Students with valid id: $10. Tickets cost an extra $5 if purchased at the door.





© Copyright 2012 by thebahamasweekly.com

Top of Page