Last Updated:

Feb 6, 2017 - 2:32:04 PM
---
Patricia Ann Russell's 12-Week Guide, The Divorce Ceremony, Offers Steps To Spiritual Healing While Divorcing Amicably

Nassau, Bahamas -I n the late 90s, Bahamian-born entrepreneur Patricia Ann Russell and her soon-to-be ex-husband mailed 400 invitations for their Divorce Ceremony to family, friends, and acquaintances. Over 100 of them came to the ceremony in Rochester, New York, including the couple's three teenage children, caterers, photographers, a DJ, and their in-laws. Especially important for Patricia was that her father, Grand Bahama businessman the late Audley Russell, was there to "take back" the daughter he had walked down the isle many years ago.

In a world that's accustomed to bitter and angry divorces, Patricia's father had never imagined two people with great respect and love for each other going their separate ways with a ceremony. The idea is a new one, and revolutionary in its simplicity and healing power.

Through her new book, The Divorce Ceremony: Healing Spiritually and Divorcing Amicably in Twelve Weeks, the executive coach, who now resides in Park City, Utah, is able to offer others a guide to moving through their separation and divorce.

"I want this book to remind the reader of how powerful they are as human beings; and that with a slight shift in perspective, they can get through the divorce process with ease and grace," Russell said.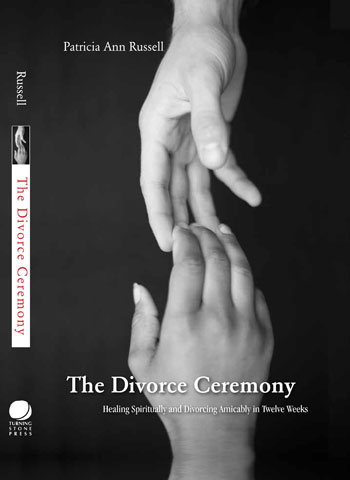 Until now, no other book has provided an integrated approach that enables the divorced to navigate the emotional quagmires, regardless of time. The Divorce Ceremony helps people to acknowledge their pain but not wallow in it; to understand spiritually what they're going through; and to help them step into their greatness.

The book, published by Turning Stone Press, will be available online at Amazon.com and Barnes & Noble.com September 24, 2013 and locally at Chapter One Bookstore on Tuesday September 10, 2013.






© Copyright 2013 by thebahamasweekly.com

Top of Page