Last Updated:

Feb 13, 2017 - 1:45:37 AM
---
Bahamian pianist, Lee Callender has been featured along with 10 other renown pianists across the globe in a number for the Israeli mission to UN intending to offer peace through music.

'United Pianos' brings together 11 musicians from six continents who together play one tune based on

Peter and the Wolf

. Watch the video on Youtube here.

Callendar said he was contacted through his Facebook page. The song was released online on December 12, 2015.

The "United Pianos" project was produced by CRC Media together with Israeli musician Idan Raichel and composer Tomer Biran.

The video features pianists from Israel, Turkey, USA, Vietnam, The Bahamas, Germany, India, Australia, Russia, South Africa and Poland. The pianists represent the nations of the world, and include men and women, Jews, Muslims and Christians, playing together and conveying a message of peace and inclusion. Meytal Cohen from LA, known for her viral drumming videos on YouTube, makes a special appearance in the video as well.

The video shows each pianist in his or her home country, playing a part of the arrangement, as the player's national flag appears in the top left-hand corner of the screen. The two-minute piece is a riff on the theme symbolizing Peter from Sergei Prokofiev's masterpiece, written – remarkably – over the course of four days in 1936.

"Music is a global language, it has the power to unite us together, by bridging cultural and political gaps," said Israeli Ambassador to the UN Danny Danon to mark the release of the video.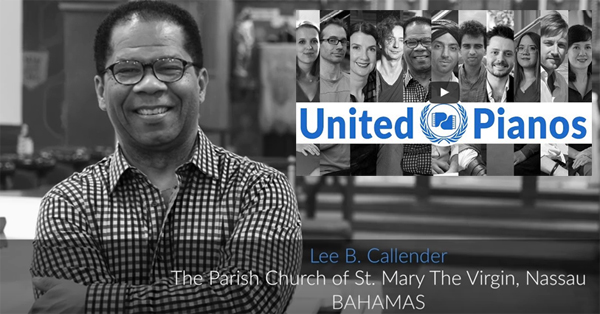 Lee B. Callender has led a diversified musical existence. He is passionate about life, music and people. His motivating thought is "You'll never have significant success with anything until it becomes an obsession with you". – Mike Murdock

He began his piano lessons at the age of 6 years under the tutelage of his grandfather, the late Timothy Gibson, composer of the National Anthem of The Bahamas. He later continued his studies in Barbados with Diane Provencal of Canada and the late Janice Millington (Barbados trained at the Royal Academy of Music in London, England).

Callender was also coached by the late E. Clement Bethel, Bahamian composer, pianist and former Director of Culture in the Bahamas, and Dr. Ernest Ragogini (Baltimore, U.S.A). In 1984, Mr. Callender obtained the Licentiate of the Royal Schools of Music in piano performance.

He has studied with Giselle Brodsky of Fort Lauderdale and studies occasionally with Edna Golandsky of New York.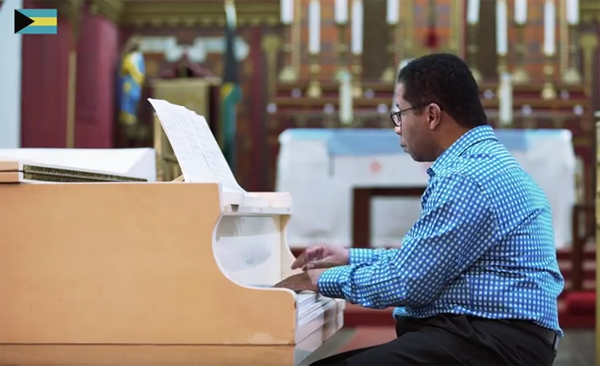 United Pianos- Full Credits



Original Composer 'Peter and the Wolf': Mr. Sergei Prokofiev, 1936, Russia
United Pianos 22 hand piano rendition composer: Tomer Biran, www.tomerbiran.com
Engineer at Tomer Biran Studios: Shai Brander
Notation: Erez Aviram

Lead Director & Concept: Shushu E. Spanier
Production Company: CRC Media, NYC www.crcmedia.com
Executive Producer: Elad Schanin
Editors: Yoav Yerushalmi & Naama Meiri
Research: Lianne Neiger & Shakhed Hadaya

Permanent Mission of Israel to the UN:
Permanent Representative to the UN, Ambassador Danny Danon
Former Permanent Representative to the UN and project initiator, Ambassador ‎Ron Prosor Deputy Permanent Representative to the UN, Ambassador David Roet

Special Thank you:
Ambassador Daniel Carmon
Ambassador Meirav Eilon Shahar
Lironne Koret
Savion Medaleion
Tomer Cohen
Ngọc Anh
Chana Anzi
Anna Shapira
Dafna Zarai
Tal Trachtman Alroy
Taly Gerber

Australia:
Pianist: Anna Goldsworthy annagoldsworthy.com
Location: Elder Hall, The University of Adelaide, Adelaide, AUSTRALIA
Cameraman: Anthony Rizzuto



Bahamas:
Pianist: Lee B. Callender
Location: The Parish Church of St. Mary the Virgin, Nassau,
BAHAMAS
Cameraman: Tal Atzmon
Director: Yoav Yerushalmi
Producer: Elad Schanin
Church's Priest: The Rev'd. Fr. Dwight M. Bowe

Germany:
Pianist: Hauschka www.hauschka-net.de
Location: Glienicke Palace, Berlin, GERMANY
Cameraman: Achille Abboud
Producer & Location Manager: Eva Abboud
Thanks to: Gabriele Kögel, Concert Agency Tatjana Döhler,
Dr. Jürgen Becher of "Prussian Palaces and Gardens Foundation Berlin-Brandenburg" www.spsg.de

India:
Pianist: Utsav Lal indianragapianist.com
Location: Bahai Lotus Temple, New Delhi, INDIA
Cameramen: Anis Ul Hasan & Rommel Shunmugam
On location producer: Akshay Singh
Executive Producer: Sakshi Sahani
Creative Director: Adarsh Thottetodi
A Betelnut Production for United Pianos
Special Thanks to:New Delhi Television Limited ( NDTV), Bahai Temple New Delhi

Israel:
Pianist: Idan Raichel idanraichelproject.com
Director: Eran (Shushu) Spanier
Location: Bardo Studios, Tel-Aviv, ISRAEL
Cameraman 1: Ofer Bar
Cameraman 2: Naama Meiri
Grip: Daniel Angelister
Producer: Yoav Yerushalmi
Make Up Artist: Adi Milbawer
Idan Raichel Project Manager: Shirli Shilo
Bardo recording studios: Erez Caspi, Recording Engineer: Daniel Anglister,
Assistant engineers: Idan katz& ofri tamim

Poland:
Pianist: Hanna Lizinkiewicz
Location: Ignacy Jan Paderewski Academy of Music, Poznań, Poland
Cameraman: Nikodem Olczyk
Sound Engineer: Konrad Lizinkiewicz

Russia:
Pianist: Kseniia Rychkova
Location: Bogolubov Library, Moscow, RUSSIA
Cameraman: Sergey Ponomarev
Cameraman 2 & Sound-man: Ilya Drobyshevsky
Location Manager: Daria Prokhorova

South Africa:
Pianist: Jason Reolon www.jasonreolon.com
Location: Milnerton Beach, Cape Town, SOUTH AFRICA
Cameraman: Marlon Du Plooy
Piano Company: Ian Burgess-Simpson Pianos | www.kawai.co.za

Turkey:
Pianist: Can Çankaya
Location: Yeniköy, Istanbul, TURKEY
Cameraman: Kerem Şahin
Producer: Özge Kapaliel
Audio Recording: Can Aykal, Alican Ipek
Piano tuner & Location Owner: Firat Balkan

United-States:
Pianist: Colin Huggins
Location: Union Square Park, NYC, UNITED-STATES
Cameraman: Tal Atzmon
Director: Elad Schanin

Vietnam:
Pianist: Pham Quynh Trang
Location: Vietnam National Academy of Music, Hanoi, VIETNAM
Cameraman: Pat Wedding Film

United States (Drummer):
Drummer: Meytal Cohen meytalcohen.com
Manager: Brett Powell, Outerloop Management
Business Manager: Lior Ron
Location: EastWest Studios, LA, USA
Cameraman: Neal Brown





© Copyright 2015 by thebahamasweekly.com

Top of Page