Jamaal Rolle of Nassau Bahamas was born to Harry Rolle, an artist and bronze sculptor, and to Judy Rolle, a conch shell artist, and says his family of 12 siblings all have artistic abilities. "I draw because there is hardly anything in life that is better to do," said Rolle. "My motivation is fueled by life itself. To awake and smell the freshness of the air each morning and see the sun rise to another glorious day is my inspiration."
Rolle has been a professional artist since 2001, but said he's been freelancing since grade school. "My first paid portrait was actually a mischievous sketch of my math teacher that I doodled in the same class," he said. When the teacher discovered the sketch by mistake, instead of scolding him as expected, he laughed and bought it from him for $10; telling him that if this is what he wanted to do for a living he should keep it up.

"Although I'd already known that I wanted to be a professional artist, that experience solidified my determination and confidence in my artistic ability. Throughout high school I continued to draw portraits of political figures and was often commissioned by my teachers," said Rolle.
His first celebrity encounter was in 1998 at the Marina Village at Atlantis on Paradise Island where his father and he operate a business drawing portraits and caricatures. "I had done an oil painting of president Barack Obama, which I had on display when the then First Lady of California, Maria Shriver passed and recognized the picture. She stopped to take a picture with me and the portrait, and we have kept in touch since then. She sent me a letter from California thanking me for sharing my work with the world. In 2011 she visited The Bahamas again and stopped by to say hello and told me she had shared my work with President Barack Obama."
During President Barack Obama's Inauguration Rolle said he had his most memorable presentation experience to date which was to Rev. Al Sharpton at the Martin Luther King Jr Rally in Washington D.C. "It was so surreal because it started so unofficial and it just happened to be turn out so big. It wasn't planned for me to present to Rev. Sharpton on stage. I just wanted him to have the portrait. Before I could even think about what was happening I heard over the sound system, 'And now all the way from the Bahamas, Jamaal Rolle!' and everyone started clapping and cheering," he said. "You can imagine how I felt with all those people -- they were probably wondering how I got there. I went on stage, addressed the crowd, presented the reverend with the portrait, and after that everyone went crazy." Rolle said that all the major networks were trying to interview him. He received official recognition for his campaign portraits.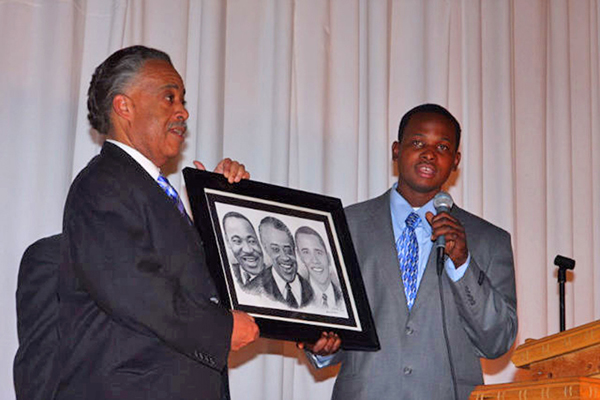 Another notable presentation was to actor Johnny Depp at the 2009 Bahamas International Film Festival, where Rolle said it was not planned but he'd carried his portrait along to the Johnny Depp Lifetime Achievement Award night. "I just happened to be the last person in the audience to be selected to ask Depp a question and I mentioned that I had done a portrait of him, and he called me up to the stage." Rolle was thanked for the gift and the movie star knelt down to the edge of the stage to thank him and pose for a photo with the artist. "Those pictures of Johnny Depp and I were featured in numerous magazine, newspapers and major celebrity blogs such as People magazine, Life magazine, the New York Post, The Bahamas Weekly and E Television!"
With all the exposure, along with recommendations from other celebrities, Rolle's steadily-growing list of renowned clientele include :
Former First Lady of California - Maria Shriver,

American Idol winner - Jordan Sparks

Award winning Pop Singers – Justin Bieber, Miley Cyrus, Katie Perry, Sheryl Crow and Natasha Beddingfield,

Award winning singers / groups – Carrie Underwood, Taylor Swift and Lady Antebellum.

Hip Hop and R&B artists – Sean "Diddy Combs, Cee lo Green, Ludacris, Jason Derulo, Neyo, DJ Khaled, Rick Ross, Young Jeezy, Fat Joe, Jim Jones, The Game, and Ace Hood

Actors - Johnny Depp, Gabrielle Union, Dave Chappelle, Anthony Anderson, Mike Epps and Alan Arkin.

NBA Basketball stars - Michael Jordan, Scottie Pippen, Magic Johnson, Patrick Ewing, Lebron James, Dwayne Wade, Carmello Anthony and Rajon Rondo,

National Football League stars- Michael Strahan and Ronnie Brown.

Major League Baseball stars Gary Sheffield, CiCi Sabathia and Mariano Rivera.

Religious Leaders - Rev Al Sarpton, Bishop Eddie Long, Pastor Mike and DeDe Freeman, Pastor Myles Munroe, and Bishop Neil Ellis.

Corporations - FBI, Toyota, Lincoln Financial Insurance, AllState Insurance, Turner Media and Heineken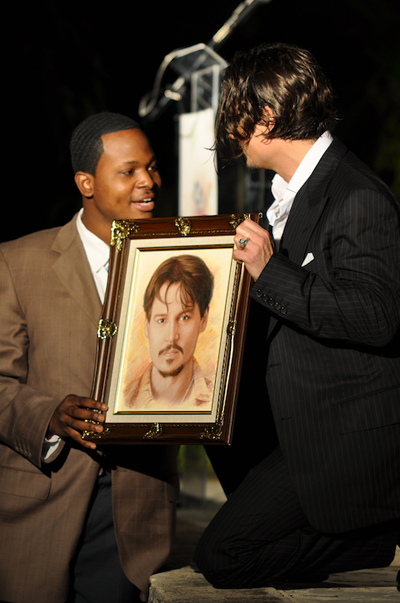 When asked about the secret to his success Rolle humbly states, "My talent

has opened doors for me that I would have never imagined. My life is a true testimony as I did not go to art school. I simply practiced the natural gift that God has given to me, and through that I continue to receive support and commission from all around the world."
Going forward Rolle said he wants to
encourage and foster young talent. "I once had a teacher who told me not to take art seriously because artists only make money after they die. It was a discouraging thing to say, but this only gave me more drive to disprove this notion. It IS possible to have a career as an artist, because here I am at 28 years old and I am recognized internationally as 'The Celebrity Artist' who is commissioned by VIPs, and the rich and famous from all over the world."

Rolle says, "Follow your dreams, and don't let anyone discourage you!"
More information at:

Jamaal Rolle: The Celebrity Artist Company Ltd.
jamaaltheartist@gmail.com
www.thecelebrityartist.com
www.facebook.com/ thecelebrityartist
www.twitter.com/thecelebartist