Last Updated:

Feb 6, 2017 - 2:32:04 PM
---
Grand Bahama Performing Arts Society (GBPAS) presents its 4th Annual Comedy Show this Saturday!


By The Bahamas Weekly News Team
Mar 15, 2012 - 10:30:09 PM


Email this article
Mobile friendly page

Freeport, Bahamas - Get ready Grand Bahama…comedy is back! The Grand Bahama Performing Arts Society (GBPAS) presents its 4th Annual Comedy Show on Saturday, March 17th at the Regency Theatre at 8pm. For the past three years, GBPAS has had you howling with laughter, providing a hilarious comedic show, every year funnier than the one before. This year there's a new twist, as they are delighted to present an improv show

starring "The Dumigod Players" from Canada.

Improvisational Theatre, or 'Improv" is a form of performance art in which actors use improvisational acting techniques to perform spontaneously, typically using audience suggestions to contribute to the content and direction of the performance.

Expect the unexpected when this group of improv actors, who hail from Toronto (the improv capital of the world) take the stage. Their fearless leader and director, Bruce Hunter , also known as an "Improv Guru", has over 30 years of acting, directing, writing and teaching experience, which includes theater, improv, film and television.

"There is no better tool for the actor than improvisation. It allows you to be comfortable onstage and you never feel alone with nothing to do. It helps you listen and see possibility in an empty space. You quickly develop character, status, conflict and resolution. It allows you to make something out of nothing," said Hunter. "I don't know a single show or commercial or movie role where I haven't used these tools. Improvisation is the mortar that keeps the bricks (script) together."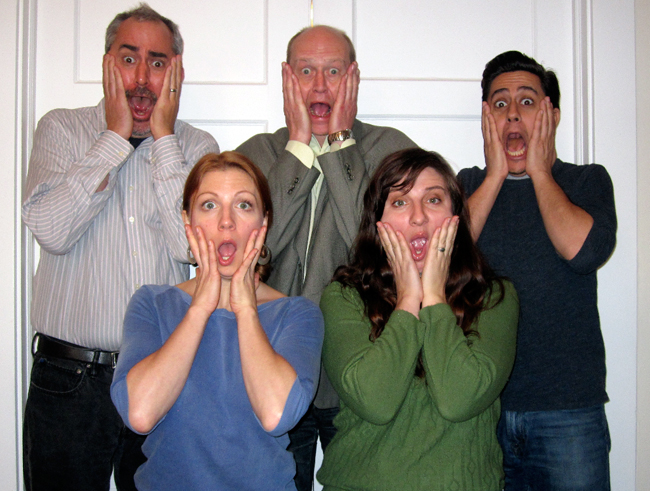 Bruce Hunter

will be joined by the talents of

Sean Fisher, Aurora Browne, Kris Siddiqi, and Melissa-Jane Shaw, with varied professional backgrounds encompassing

acting, directing, dancing,

music director,

choreography,

producing, sketch performer, writer,

and involving appearances on stage, TV and screen.
"The GBPAS couldn't be more excited about our 4th comedy show! They have become a real favorite among our local audiences. In the past we presented stand-up comedian headliners who delivered hours of non-stop laughs
," said Dalia Feldman, the GBPAS' founder and president.
"This year will be just as funny with this comedic improv team who have volunteered their time to travel here and perform. Expect to have an unforgettable evening! We are also so excited about the improv workshop that Bruce Hunter will be directing for local actors. It's going to be a fantastic weekend!"

This show is for adults only and can be purchased in advance for $30 at The Seventeen Shop, Antoni's Pizzeria or The Art of Giving, or at the door for $35. Wear green on the night and receive a complimentary St. Patrick's Day Punch!

Fair warning…this event sells out quickly, so don't delay!

This event has been made possible through the generous support of all GBPAS Members and Sponsors, with special thanks to Karen Clarke and John Gher of Thayer's Natural Remedies, Pelican Bay Hotel, The Bahamas Weekly, Mackey Media,
Keen i Media,
and the Freeport Player's Guild.



The Grand Bahama Performing Arts Society

was created to bring professional artists and performers from around the world to audiences in Grand Bahama. Drawing from Bahamian and international talent, a number of performances are planned throughout the year. Proceeds are used for the advancement of Grand Bahama students of the performing arts. Find us on Facebook



4th annual GBPAS Comedy Show to bring Improv to The Bahamas





© Copyright 2012 by thebahamasweekly.com

Top of Page