Last Updated:

Feb 6, 2017 - 2:32:04 PM
---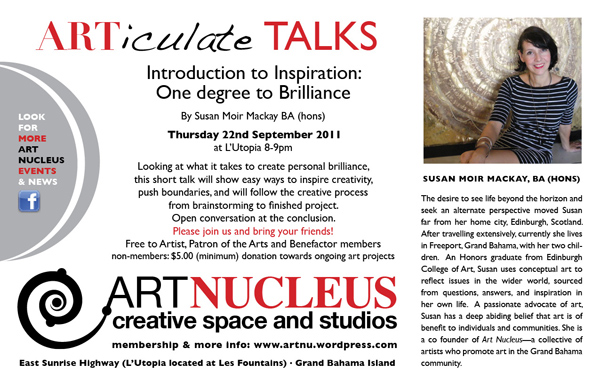 Freeport, Bahamas - Art Nucleus presents, "Introduction to Inspiration: One degree to Brilliance" with artist Susan Moir Mackay BA (hons) on Thursday 22nd September 2011 at L'Utopia from 8-9pm.

Looking at what it takes to create personal brilliance, this short talk will show easy ways to inspire creativity, push boundaries, and will follow the creative process
from brainstorming to finished project. Open conversation at the conclusion.
Please join us and bring your friends! Free to Artist, Patron of the Arts and Benefactor members; non-members: $5.00 (minimum) donation towards ongoing art projects. Art Nucleus is located off East Sunrise Highway (L'Utopia: at Les Fountains)

SPEAKER: SUSAN MOIR MACKAY, BA (HONS)
The desire to see life beyond the horizon and seek an alternate perspective moved Susan far from her home city, Edinburgh, Scotland. After travelling extensively, currently she lives in Freeport, Grand Bahama, with her two children. An Honors graduate from Edinburgh College of Art, Susan uses conceptual art to reflect issues in the wider world, sourced from questions, answers, and inspiration in her own life. A passionate advocate of art, Susan has a deep abiding belief that art is of
benefit to individuals and communities. She is a co founder of Art Nucleus—a collective of artists who promote art in the Grand Bahama community.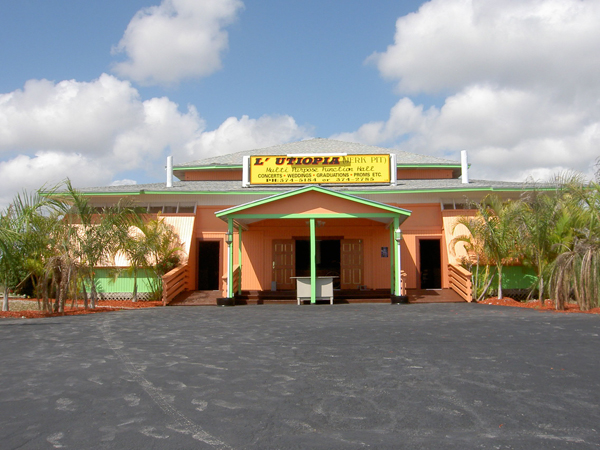 LOOK
FOR
MORE
ART
NUCLEUS
EVENTS
& NEWS ON FACEBOOK
For membership and more information: www.artnu.wordpress.com
ART
NUCLEUS
creative space and studios





© Copyright 2011 by thebahamasweekly.com

Top of Page