Last Updated:

Feb 6, 2017 - 2:32:04 PM
---
"The Mundane, the Profane and the Profound" - Margot Bethel



Nassau, Bahamas - The Hub in Nassau hosted a selection from the work of Grand Bahama based artist, Susan Moir Mackay's.

Mackay was on hand at The Hub to chat about the sampling of her diverse work on display under the theme "Amuse Bouche". The conceptual artist shared insights and commentary about her intention, inspiration, and process. Her work

has been seen in many exhibits in both New Providence and Grand Bahama including the NAGB.



Founder of The Hub, Margot Bethel shares her thoughts on Susan Moir Mackay's work,

"The nature of Susan Moir-Mackays' visual inquiry is to dive into the mirky messiness of human emotion and thought - you won't find floral still-lifes or balmy sunsets in her repertoire, she is not about surfaces. But rather, if you can suspend belief, her exploration of the deep is worth the cost of holding your breath.

Susan Moir-Mackay's work is as intensely personal as it is specific to her gender and point of view as mother, wife, ex-wife, lover or friend. She bravely exposes and re-exposes her grief, pain and disappointment, as she challenges us to do the same. Susan dares to face and reveal her own body inside and out - through blood, hair or bared skin. The honesty and raw emotion in her pieces is without pretense or formality. It is (what it is): dirty and warm, wet and uncomfortable, shiny and sharp and composed of the everyday.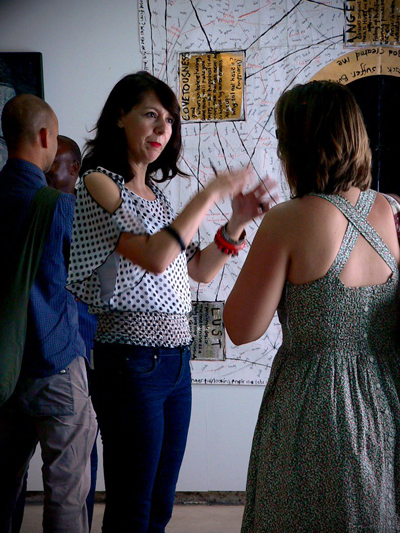 Susan's process-based work makes defiant and densely layered use of materials that feel as though they are in a constant state of becoming - as if each deliberate addition could be rearranged or added to at any time. There is a message: to communicate both chaos and form, destruction and creation and represent it using text, object, pattern and paint and collections of stuff arranged or catalogued. Susan reminds us of the visceral. She builds upon relationships between the canvas, her reflection and the symbols she chooses to both transmit and transmute a moment in time. Her practice of combining base materials with ethereal imaginings assembles into figures, moons, vessels, textures and ritualistic spirals draw inward.

Susan Moir-Mackays work might make you shudder (or weep) as it draws into her personal universe, but you might be more expanded and aware when you emerge. Her vessels of hair and knife-mandalas multiply curiosities about what art is or isn't, and what an artist does or doesn't do. Whatever your position, Moir-Mackay will make you work to appreciate the wonder and vulnerability of being human."


CLICK HERE to read an article by Sonia Farmer of The Guardian.
Susan Moir Mackay

is a BA (Hons) graduate from Edinburgh College of Art, Scotland: An impassioned advocate for the importance of art for both individuals and communities, she has made Grand Bahama her home, where she shares her creative enthusiasms with her two children and the community-based art organization she co-founded, Art Nucleus and writes an art column for The Bahamas Weekly.

Editor's Note:

Learn more about this artist by listening to an audio of Susan Moir Mackay

speaking of one of her earliest exhibits in Grand Bahama. Truth or Taboo





© Copyright 2012 by thebahamasweekly.com

Top of Page