When someone says " Miami" – what comes to your mind?
Warm sultry breezes wafting over a translucent azure ocean?
Lush vegetation like banana, cocoanut, mango, avocado, and juju trees?
Unending neighborhoods of pastel art deco buildings and Mediterranean mansions under barrel-tile roofs?
Or Latin culture, language, food and music?
Most people, including many Miamians, see a modern metropolis that is the present day " Magic City". Over the last fifty years much of historical Miami has been lost in the name of progress to developers' lust for ever more elegant, spacious, and elaborate accommodations to sell to an increasingly global market.
And yet Miami is so much more: built by African, Caribbean, European, and native people who explored, cleared, farmed, and settled the untamed Florida peninsula long before their Latin brothers and sisters arrived in great numbers in the last half of the 20th century.
During his formative years Jeffrey Poitier absorbed the stories his elders related about ancestors who built boats they sailed to Florida to sell the fruits of their crops to newly arrived white settlers. Many became migrant workers – moving to Florida during the working season and returning back to the Bahamian islands with their earnings. Others stayed on to work the land, to build houses, rock walls and roads: their experience back home provided valuable expertise to be exploited in developing this new land.

SLIDESHOW: Voices director, Jeffrey Poitier talks to viewers after the 7pm screening at the AMC in Coconut Grove, Florida on October 25th, 2008. Photos: Lyndah Wells for The Bahamas Weekly.


When Jeffrey moved back to Miami in late 2004, he connected his relatives' oft-told stories of a wild impenetrable jungle land cultivated by people from his homeland (and his family) directly to his new Miami neighborhood. Casual conversations with new neighbors uncovered stories of a strong and proud people who built a cohesive and hard-working community which although somewhat intact today is slowly disappearing. He had landed smack in the middle of the very community that was built in large part by his Bahamian forebears!

His new neighbors recount stories of people who cleared land, built homes and raised generations of solid citizens. These descendents of farm laborers who carved their settlement from the wilderness do not intend to sit idly by and watch that legacy torn down and turned into "neighborhoods" of McMansions. At the same time they mourn the fact that their history is being erased from the collective memory.

Long a believer that Black people like Native Americans and other cultures with strong

oral traditions, are in danger of losing their rich history Jeffrey felt called to use his skills as a filmmaker to tell this particular story. These people, his people, came to work; in Miami's first hotel, in fields owned by white settlers, and eventually in their own businesses. Bahamians, who built the boats that carried them from their homeland, built homes that withstood hurricanes and more than a hundred years of rugged south Florida weather.

While Bahamians were sailing over to Miami, American slaves and free people of color were also making their way over land to this place where Black people lived freely and owned their own homes, land, boats and businesses. They streamed into this community called "Cocoanut Grove" that warmly received them and incorporated their skills as midwives, preachers, teachers and entrepreneurs: together they populated and grew this community. By co-existing and intermarrying, these people built a strong blended culture that drew on and adopted the best of both worlds and is the basis for Coconut Grove today.

Jeffrey realized that while considerable interest in a project to record these stories for posterity exists, searching for financing necessary for a multi-camera, professional shooting schedule risked losing the stories of the oldest Grove residents. So with his hand-held digital camera in tow, he applied his experience and his training to begin to film interviews with people who wanted to tell their stories. He has spent uncountable hours recording stories that come spilling out of people who long thought no one wanted to hear them.

His most compelling interview subjects are children of the original settlers, now in their eighties and nineties, who tell the story of the Grove as they remember it. The storytellers recount many obstacles along the way: racial prejudice, both historically and as it still exists; real estate developers who gobble up land – some of it transferred to early settlers in lieu of hard-earned pay; and recent economic changes which threaten the community's viability: rising property taxes that are beyond what is reasonably affordable for people living in inherited property built by generations long gone.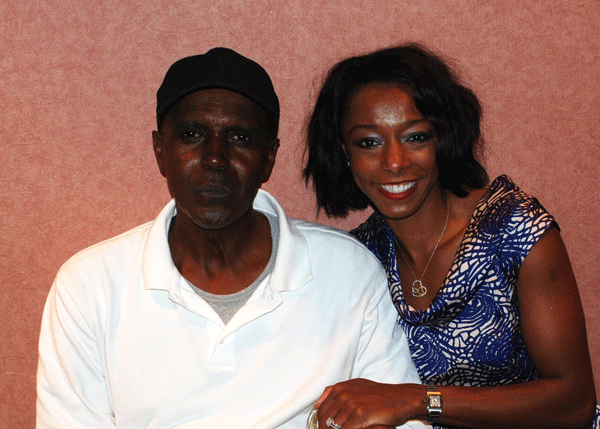 SLIDESHOW: Photographer, Lyndah Wells with Bahamian director, Jeffrey Poitier; Morayo Pampan, visiting from the UK, also seen with director Jeffrey Poitier at the 'Voices' after-party. Photos: Lyndah Wells for The Bahamas Weekly


Originally envisioned as a documentary film – one to three hours in length – the voices… project has produced hours upon hours of interviews to be edited for both a multi-part television series and a documentary feature film which encapsulates the themes of the series. The feature film stands on its own and like the rest of the series uses three main "voices" to convey its message: Jeffrey Poitier's voiceover, local musicians' phenomenal compositions, and at the center interviews with the people of Coconut Grove, their children and grandchildren, white residents, and newly arrived African-Americans round out the narrative.

This is the story of people who were the maids, housekeepers, landscapers, land-clearers, farmers, masons, teachers, and builders – the people who made Coconut Grove and Miami what it is today – told in their own way, with their own voices. This is the story told in the film that will premiere publicly and will whet the public appetite for more!

It begins with Bahamians and African Americans who arrived in Miami at the turn of the last century – capturing events unfolding both in the United States and in the Bahamas at the time, which prompted people to head for paradise. Direction will change focus to Coconut Grove as it builds, thrives, and displays evidence of a flourishing culture (i.e. signers to the original incorporation of the City of Miami, the first African American surgeon in Florida and contributions to the heritage of a unique and beautiful architecture style of building with native coral rock.)

Then, focus shifts again as the project acknowledges racism that underlies the telling of this story: addressing segregation – an era when black people traveling outside of the Grove were required to carry I.D. cards to show police upon request and to follow strict curfew regulations in white Miami neighborhoods; and desegregation – surprisingly seen as a negative and destructive force by many in this black community. The story moves into the living rooms and lives of the people who live in the thriving Black Grove community that exists today, even as it is threatened by investment real estate developers.

Jeffrey Poitier was born and raised in Nassau, Bahamas, and graduated from Miami Jackson High School, after which he moved to New York to study acting, voice and speech as well as advanced training in television production, editing, and camera work. Later, he attended Howard University, where he majored in Communications. After spending more than 25 years working in film and television in a variety of positions, Jeffrey established his own production company: Poitier Productions. For the voices… project, Jeffrey enlisted a dedicated group of Coconut Grove natives, descended from the original settlers, who are determined that the rich history of the Grove and their people's contribution to it not be lost.

The original concept of a 90-minute independent documentary film alone would have cost at least $750,000, including second unit filming in Coconut Grove and in the Bahamas, and which required hiring outside professionals. However, since the largest part of the project – the interviews – was filmed with Jeffrey's hand-held camera using funds provided by family and friends, completion of the full scope of the project calls for external financing to cover the costs of professional editing, studio time, and post-production work.

As happens in many (if not most) documentary film projects, the quality of the final product is dictated by the editing process. This diamond-in-the-rough documentary film project will be polished in the studio, where the entire budget will be dedicated to assuring that the quality and authenticity of the Coconut Grove story comes across on film. Without external financing, Jeffrey has amassed hundreds of hours of interviews on countless individual digital video tapes and developed a theater-length overview of the project: with proper funding for post-production, all of the stories of the people responsible for building the foundation that makes Miami what it is today will be preserved for posterity and the voices… of those who came to south Florida and built Coconut Grove and Miami will not be forgotten!