The Festivals prestigious Rising Star Award is given to an actor or actress whose noteworthy performances have put them on the path for elite and lasting stardom in the industry.

Commented Vanderpool, "Having Sophie Okonedo as the 2009 BIFF Rising Star honoree could not be any more perfect. She is one of the most talented and gracious actresses on screen today. We know the Bahamian community will embrace her and help us celebrate her past, current and, most certainly, future success. As anyone who has seen Sophie's collection of feature film performances can attest, her star is most definitely one on a meteoric rise."
Sophie Okonedo earned an Academy Award nomination in 2005 as Best Supporting Actress for her role in Hotel Rwanda in which she played the wife of the hotel owner who saved thousands of lives during the Rwanda genocide of the 90s. She was also nominated for Screen Actors Guild (SAG,) Critics Circle and NAACP Image Awards.More recently, she starred in the feature film Skin, about a black girl born to white parents during South Africas apartheid era. The film is based on the true story of Sandra Laing and relates her parents battle to have her classified as white and her subsequent battle to be re-classified as coloured in order to be able to keep her children. Sophie is nominated as Best Actress at the 2009 British Independent Film Awards. Also released in 2009 was the highly regarded The Secret Life of Bees in which Sophie starred alongside Queen Latifa, Alicia Keys and Jennifer Hudson.
In 2006 she starred in Scenes of a Sexual Nature, which followed seven couples relationships one afternoon on Hampstead Heath, and in the family feature Stormbreaker. In Martian Child she starred alongside John Cusack and Joan Cusack. In 2002 she starred in the award-winning British film Dirty Pretty Things with Audrey Tautou and Chiwetel Ejiofor. Sophies portrayal of Juliette earned her a nomination for Best Supporting Actress at the British Independent Film Awards in 2003. Previous films include This Years Love (1999), The Jackal (1997), Go Now (1995), and Young Soul Rebels (1991).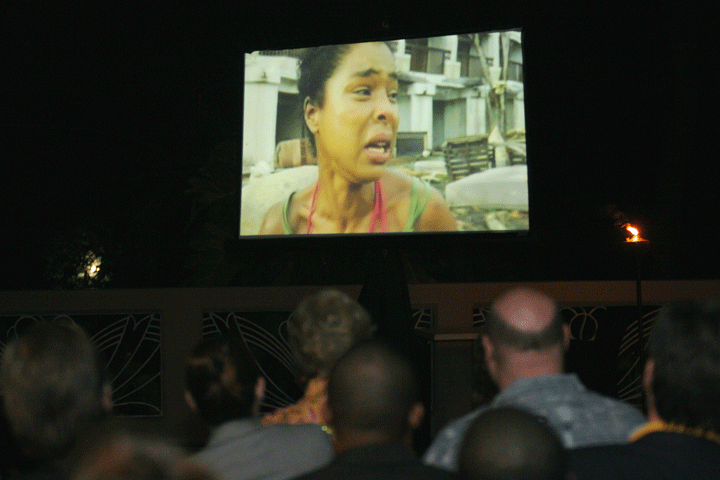 A montage of Okonedo's films were shown to the audience prior to the Q & A session. Photo © Dominic Duncombe Photography
Sophies television roles include her work with Paul Abbot and Tony Marchant: she was seen in the 2003 Paul Abbot thriller/black comedy Alibi, and in his BBC series Clocking Off (2000). Tony Marchants Never Never (2000) for Channel 4 earned her a Best Actress nomination at the Royal Television Society Awards. She is also well known for her roles in Born with Two Mothers (2005), a hard-hitting drama which addressed the powerful issue of IVF treatment, Whose Baby which was broadcast on ITV in October 2004, and also in Sweet Revenge (2001), Dead Casual (2002) and Deep Secrets (1996). In March 2006, she starred alongside Michael Gambon and Colin Firth in Harold Pinters Celebration. In December of the same year audiences saw Sophie in the gritty and emotional drama Tsunami: The Aftermath. Her performance won her an Image Award for Outstanding Actress in a Television Movie, Mini-series or Dramatic Special, and a Golden Globe nomination for Best Actress in a Mini-series or Motion Picture Made for Television. She played the ill-fated Nancy in the BBC adaptation of Oliver Twist, directed by Coky Giedroyc and co-starring Timothy Spall, Tom Hardy and Edward Fox, which was broadcast over Christmas 2007.
In 2008 Sophie made a big impact in the BBCs popular series Criminal Justice as a perceptive solicitor in a case of domestic abuse and murder.
After graduating from RADA, Sophie spent two years with the Royal Shakespeare Company and began her long running association with the Royal Court Theatre (where she is now on the Board of Directors) and with whom she appeared in more than ten plays. Her big break was when she joined Trevor Nunn and Jon Cairds company at the National Theatre to play the role of Cressida in Troilus and Cressida.
In early 2010 Sophie stars in the lead role in the BBC television film Mrs Mandela in which she plays the eponymous Winnie Mandela.