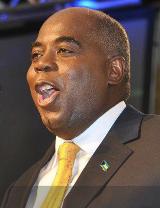 Nassau, Bahamas - The following is a statement by the Deputy Prime Minister the Hon. Philip Davis made on December 9th:

As has been reported, an armed robbery was committed at my home this morning.
Unfortunately, a member of my security detail did receive minor injuries. We are grateful for his service and wish him a speedy recovery.
I have asked the Police Commissioner to provide the public with frequent updates regarding their ongoing The business of the government continues. Today, I am in the Exumas, as scheduled, with Minister Jerome My wife and I were not harmed during the robbery, thank God. But the number of Bahamians who are the victims of violence does remain unacceptably high.
Fighting crime was a priority for us yesterday, and it is a priority for us today, and it will remain a top priority until all Bahamians are safe.

Bernard Nottage statement on the home invasion & robbery of Acting Prime Minister, Philip Brave Davis

Brave Davis Armed Robbery Statement by Bahamas Commissioner of Police

Minnis Outlines FNM Crime Plan for The Bahamas

Bahamas DPM armed robbery suspect & getaway vehicle photos/video released