Last Updated:

Feb 6, 2017 - 2:32:04 PM
---
Nassau, The Bahamas --Prime Minister the Rt. Hon. Perry Christie addressed the capacity crowd in Christ Church Cathedral December 5, about the life and death of sports icon, Thomas Augustus Robinson, M.B.E. Mr. Robinson died November 25 at the age of 74.


TheState Recognised Funeral was held at Christ Church Cathedral with Archbishop Laish Boyd as the Chief Celebrant in the home going mass. Interment was in the Robinson Family Plot in the Eastern Cemetery.


"I feel the pain of Tommy's passing very deeply," said Mr. Christie. "Tommy and I, and others in our group, went way back, way, way back. We were close friends, he and I, confidants to each other, over the course of many years. Indeed, our friendship spanned for more than 50 years, and it continued without interruption, right up to Tommy's death two Sundays ago."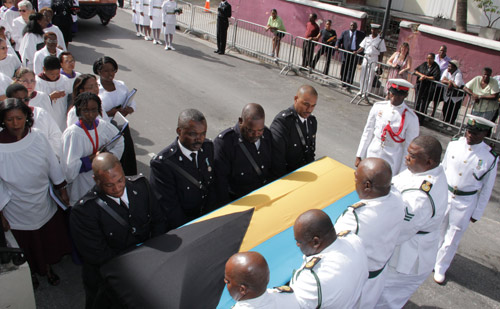 The Prime Minister spoke of the endurance of the friendship, even though he and Robinson were on opposite sides of the political divide.

"Even though we had divergent partisan allegiances during the greater part of our relationship, it never ever got in the way of our friendship. Indeed, one of the most poignant memories I have of my many years in Bahamian politics is how Tommy Robinson stood with me, unflinchingly and unapologetically during my times of personal trial and tribulation in the political arena. But that was the way Tommy was. He was a friend for all seasons and a friend for all times. I could count on Tommy through thick and thin, in good times and in bad. Tommy was always there," said PM Christie.

The Prime Minister said that Robinson was also his mentor and role model during his many years as an athlete,just as he would be for many other Bahamian athletes over many years.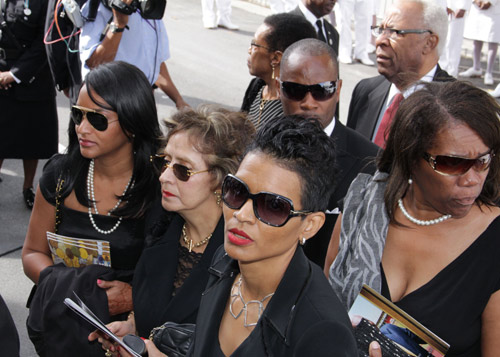 "Speaking for myself personally, as a former athlete, I have to publicly record the debt that I owe Tommy because without his intervention, I may never had been able to launch my own involvement in international competition. But thanks to Tommy's advocacy, I was given the opportunity after the Bahamian team had been selected in 1960, to take part in a jump off to determine whether I would be eligible to represent The Bahamas, even though the team had already been selected to participate in the triple jump in the West Indies Federation Games in the 1960s. As a result of the jump off, I was added to the team for those games. Without Tommy, I don't think I would have ever been given that chance."

Tribute was also given by two of Robinson's children, Cyril "Roby" Robinson and Erika Robinson, who remembered him as a dedicated person, determined to achieve his goals. He was a man who loved and cherished his family, who would do everything to see his children succeed.

Tommy Robinson represented The Bahamas in four Olympic Games beginning with the Melbourne, Australia Games in 1956, Rome in 1960, Tokyo in 1964 and Mexico in 1968. He became the first Bahamian to win a medal in international competition, a Bronze Medal in 100m in the West Indian Federation Games in Kingston, Jamaica. He was also a part of the 400 m relay team which also won a Bronze Medal.

Then, at the 1958 British Empire Games in Cardiff, Wales, Robinson won a gold medal in the 200 yard dash and a silver medal in the 100 yard dash. He came back in the 1962 British Empire and Commonwealth Games to win a silver medal in the 100 yard dash, a feat he repeated in the 1966 British Empire and Commonwealth Games. He also won a gold medal at the 1962 Central American and Caribbean Games.




RELATED ARTICLES:



Memorial Service, State-Recognised Funeral Set for Sports Icon T A Robinson
Bahamas Governor General statement on passing of Thomas A Robinson
Prime Minister Perry Christie statement on the passing of Thomas Augustus Robinson
"How Great Though Art" in memory of Thomas A. Robinson
Bahamas Opposition leader Dr. Hubert a. Minnis, statement on the passing of Thomas A. Robinson
The legendary Thomas Augustus Robinson passes
A Poem in Memory of Thomas A. Robinson by Obediah Smith





© Copyright 2012 by thebahamasweekly.com

Top of Page