Last Updated:

Feb 13, 2017 - 1:45:37 AM
---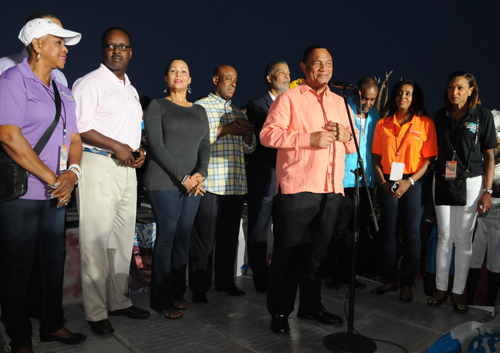 NASSAU, The Bahamas -- Prime Minister, the Right Hon. Perry G. Christie officially opened Nassau's first-ever Bahamas Junkanoo Carnival on Thursday, May 7, in a beachside ceremony at the Western Esplanade. As he addressed spectators of all walks of life, in the air was the excitement of the dawn of something new.

The Prime Minister told the crowd he was 'optimistic' about the new festival and felt that it would bring great opportunities for Bahamians over the coming years. With three days of fun ahead of them, the crowd was ready to experience carnival -- with a Bahamian flavour, lots of music, and the magical ambience of gorgeous sand and sea in the background.

Arawak Cay and Clifford Park were transformed into 'Da Cultural Village,' where entrepreneurs, artisans and crafts persons, food vendors, Junkanooers, and Bahamian and international musicians expressed their creativity: musicians had their own "Rake 'n' Scrape," "Bahamia," and "Junkanoo" stages; Music Masters, Visage, international groups, Baha Men and Machel Montano performed on a never-seen-before-in-The Bahamas Mega Stage.

Art lovers had the treat of a Bahamian Visual Arts Expo presented by The Arts Pavilion.

And Road Fever dominated Saturday in a theatre of costumes on parade from the Thomas A. Robinson National Stadium to the Western Esplanade – a street party from 11:00 a.m. that wound into the esplanade as the sun made its way down behind the horizon, and it was lights…cameras…and more… Bahamas Junkanoo Carnival.

Bahamas Junkanoo Carnival launched in Freeport, Grand Bahama, at Taino Beach, April 17, to excited and energized crowds: the flame of enthusiasm passed to New Providence where it was expressed with as much fervor, but on a much larger scale.








© Copyright 2015 by thebahamasweekly.com

Top of Page