Last Updated:

Feb 13, 2017 - 1:45:37 AM
---
Freeport, BAHAMAS – Bahamas Junkanoo Carnival (BJC) Kickoff Weekend in Grand Bahama sounded off with a bang Friday night with live Bahamian performances and fireworks and closed out with a massive Junkanoo rushout turned street party that lasted well into the morning hours on Sunday.

While there was an exciting lineup of entertainment, including the 17 semi-finalists in the Bahamas Junkanoo Carnival Music Masters Song Competition, the two-day festival climaxed with the sounds of the Legendary T-Connection, who certainly did not disappoint. In epic-style, some of the country's most celebrated artists also graced the grand stage, and gave show-stopping performances, including Jay Mitchell, Dyson Knight, Julien Believe, Stileet, Avvy and D-Mac.


Local and international media from the South Florida Insider and the Miami Times, HOT105FM, A&H Magazine in Pittsburg, the Turquoise Morning Show out of The Turks and Caicos Islands, and as far away as Canada and more were all on hand to capture the history making turn of events.

Ryan Neevan from A&H Magazine, who travelled to Grand Bahama ahead the weekend festivities and after hearing about how "awesome" Junkanoo is in The Bahamas, was excited to see the Junkanoo costumes and all of the Junkanoo groups come together to perform.

South Florida Insider Media Director Joel LaFortune got a sneak peek of a number of costumes on the shelves at The Grand Life production house days before the kickoff and was amazed by the vibrant colors.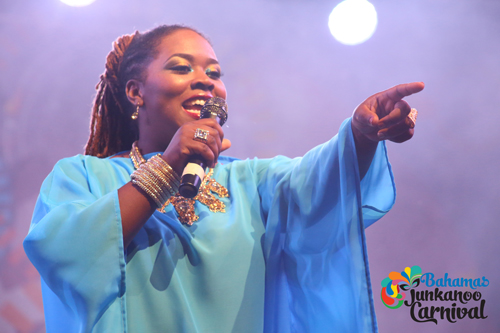 Taino Beach in Grand Bahama was transformed into a Cultural Village for the two days offering the estimated 10,000 Carnival goers on Friday and 20,000 on Saturday a rich lineup of Bahamian music, food, drinks, arts and craft, heritage and hospitality.

From the local performances of about 20 entertainers, including the Grand Bahama Youth Choir, to that of the 17 semi-finalists in the Music Masters Competition, backed by Tingum Dem andThe Police Force "Pop" Band, to the Fitness workouts, Beach Olympics, Kiddie Land, fireworks and Junkanoo Rushouts, the venue served as a non-stop party site and kickoff headquarters for the first ever Bahamas Junkanoo Carnival.


Grand Bahama also witnessed the reveal of the top 10 finalists who were chosen Saturday after two nights of live performances by Grand Bahama's own Terrell Tynes-Wilson and Georgina Ward Rigby and New Providence semi-finalists Sonovia Pierre, Colyn McDonald, Sketch Carey, Sammi Star, Bodine Johnson, Plati Dread, Raj the Entertainer, Val Shugar Richards, Khiara Sherman, Erica 'Lady E' Symonette, Raymond Campbell, Dwayne Simmons, Ian McQuay, Puzzle and Angelique Sabrina.

In the end, contestants Colyn with his two songs - Carnival is Here and Jump & Carry On; Georgina Ward-Rigby with In the Carnival; Ian McQuay with Going Home; Ericka 'Lady E' Symonette- with My Islands in the Sun; Sammi Starr with Jump in the Line; Chris ' Sketch' Carey with Wine like a Champion; BodineJohnson with All Day, All Night; Sonovia Pierre with Junkanoo Carnival Party and Tyrone Platti Dread with Junkanoo Rock would advance to the finals and a chance to win $20,000.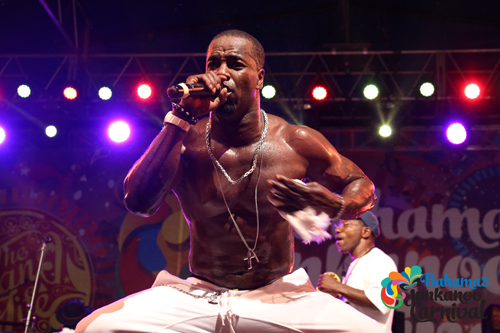 Prime Minister Perry Christie, Minister of Tourism Obie Wilchcombe and Minister of Youth, Sports, Culture Daniel Johnson and Minister for Grand Bahama Dr. Michael Darville had nothing but praises for the first ever signature event.

Leon Williams, Chief Executive Officer of BTC, which is the primary sponsor of Bahamas Junkanoo Carnival, was also impressed with the festivities and turnout and noted that its execution was "organization personified."


BJC organizer and Bahamas Festival Commission Consultant Ginger Moxey was overjoyed with the support from Grand Bahama over the two-day event from Corporate Grand Bahama to the fitness gurus, Junkanooers, designers, artisans, The Grand Life Models and all of the entertainers and especially thanked the amazing team of people who worked along with her behind the scenes to pull off such a successful historic inaugural event.


"It was definitely a great community team effort," she said.

Preparation continues for what is billed to be the single largest street party The Bahamas has ever seen as all roads now lead to New Providence for Bahamas Junkanoo Carnival on May 7-9, 2015.






© Copyright 2015 by thebahamasweekly.com

Top of Page