MTV Buzzworthy calls her "the next Rihanna"

The last time we heard from young Angelique Sabrina, Bahamian singer/songwriter who is signed to White Ocean Entertainment, she was announcing her contest to attract dancers for her official

Pull Up

video production. The new dance "Pull Up" was coined by 14 year old Angelique herself and the official video seen here includes the submission winners to the "Pull Up" contest, Dale Sweeting's and Raquel de Cardenas' who were chosen by the directors and can be seen at 1:13 and 1:54 minutes in the video respectively.


Just this past week the much-anticipated new video premiered on
MTV Buzzworthy
who are calling her the next Rhianna and gave her rave reviews
- "Remember yesterday when we gave you the Buzz On 14-year-old island-pop artist Angelique Sabrina? And remember when we told you that she may, in fact, be the next Rihanna? Thanks to her latest video, "Pull Up," we can now confirm that Angelique is probably the next Rihanna... and maybe some other really famous people, too."

Shortly after the launch, her video was also featured on Ryan Seacrest's website.

MTV goes on to say, "In her seriously dope

Pull Up

video, Angelique flaunts her status as a triple threat. Not only does she look stunning, but her voice is on point and her dance moves are straight outta "America's Best Dance Crew." As a song,

Pull Up

is about as catchy as it gets -- set to an island-flavored pop beat (think "Pon De Replay" meets "Pon De Floor" meets traditional Bahamian music), Angelique's new tune is not only radio-ready, but also introduces the world to the

Pull Up

, a new dance coined by Angelique. Yep, she just balls out like that."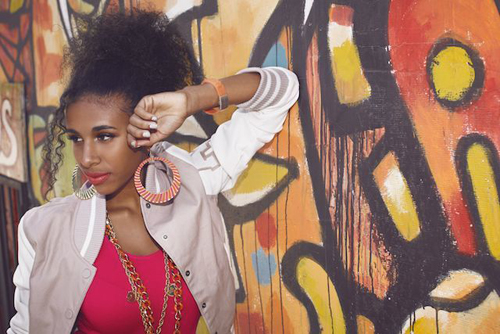 "Plot-wise, the video is simple: Angelique roams the beautiful streets of her native Bahamas when suddenly she's transported right into the middle of Hollywood. Angelique spots some of her pals on the street, and naturally they all begin to "Pull Up!" (And extremely well, if I might add.) Angelique and her posse move the party to the beach where the non-alcoholic festivities continue to rage on. We've said it once, and we'll say it again: Watch yo back Rihanna world, Angelique is on the come up."

Other online websites and magazines have been featuring her as well, from the United States to Romania to India to France. In addition, Angelique Sabrina has received many requests from teen magazines that wish to interview her and feature her "Pull Up" video immediately.

The video was produced by Skee TV and directed by Industrial Films. It was shot over two days in Los Angeles and Zuma Beach, California.

Angelique Sabrina is excited to be living her dream and continues to encourage her peers to "follow their dreams, surround themselves with solid individuals who believe in and encourage them, and follow their heart's desires."

For more information on this exciting young Bahamian talent:


Website:
 ‪http://angeliquesabrina.com/
Like on FB:
 ‪http://www.facebook.com/ AngeliqueSab?ref=ts 


Follow on twitter:
@angeliquesab

Official
Buy on iTunes:
 ‪http://itunes.apple.com/us/ album/pull-up-single/ id526302989