Last Updated:

Feb 13, 2017 - 1:45:37 AM
---

FREEPORT, Bahamas – Due to Hurricane Matthew, Culinary Fusion Expo 2016 is now set to take place Saturday November 26th, 2016 at Grand Lucayan from 4pm to 9pm. The organizers are pulling out all of the stops to make this fourth annual event an even more memorable one.

This year, MOVE Marketing has partnered with Immerse Bahamas, BTC, the Ministry of Tourism, the Grand Bahama Port Authority and The Bahamas Weekly to stage the finest food and beverage expo ever on Grand Bahama Island.

"Attendees this year will experience the best dining Grand Bahama Island has to offer – all in one night. Equally important is the wonderful opportunity restaurants, cafes, bistros, bakeries, hoteliers and cocktail lounge owners have to showcase their specialty items to patrons, who may not be aware of the variety of offerings on the island."

Immerse Bahamas Project Manager Karen Ferguson-Bain spoke of the diversity of the Culinary Fusion experience each year that brings together chefs, cooks, mixologists, breweries, bakeries, restaurants and hotels.

"It is our desire to wow you with impeccable savor from renowned restaurants on Grand Bahama. We truly appreciate the support that we received last year, with over 800 attendees and 22 excited vendors who dazzled guests with savory dishes, delectable desserts and sexy cocktails," said Ferguson.

LaShawn Dames, Grand Bahama Port Authority Business Services Manager, said that for Invest Grand Bahama Small Business Bureau partnering with MOVE Marketing was a no brainer since the impetus behind Culinary Fusion fuels entrepreneurship in the food and beverage field.

"We're excited that it is a great opportunity for small businesses in the F&B field to get that added exposure, whether that is locally or nationally," Dames said.

Having reaped positive reviews from previous Culinary Fusion expos, Ministry of Tourism Communications representative Brooke Grant noted that the ministry is pleased that the specialty event has driven the culinary tourism dollars to the destination and is looking forward to hosting visiting journalists from North America, Canada and even as far as Europe this year.

The amount of attention the articles published by local and international journalists have already drawn to the island, coupled with the exposure mileage the event derives from the Ministry's half a million-plus followers via its social media pages, Travel Bahamas and Tourism Today Bahamas.

Tickets for Culinary Fusion 2016 are Tickets $50 in advance and $60 at the door. Box offices are Gizmos and Gadgets and The Seventeen Shop. For more info visit their Facebook page.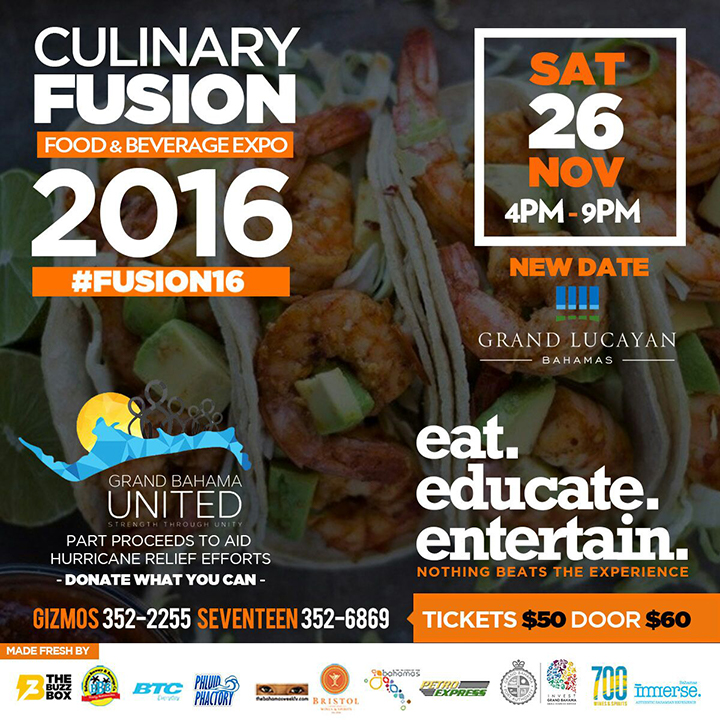 © Copyright 2016 by thebahamasweekly.com

Top of Page