Fort Lauderdale, FL - Aaliyah Samaya Mellody Carey was born two months early weighing in at 2 pounds 12 ounces, and could initially fit in the palms of her father's hands. So precious, but so small. The hospital performed numerous tests and while the doctors prepared her parents for everything, they knew God also had his plans.

Their first month was the toughest recounts the father, Bahamian rapper Goldenchild who said, "Not being able to hold her, or feed her, or hug her to make her feel secure, was probably the most difficult thing I have ever faced."

As the days turned into weeks they started to see Aaliyah get bigger and stronger, and after the first month in the hospital she was out of her incubator and making strides to come home. "Overall we ended up in the hospital for close to three months, and developed relationships with other parents dealing with similar circumstances," said Goldenchild. "People always told me that children change your life, and after going through what we did, I know mine changed for the better."

"I have had many titles throughout my life: son, brother, rapper, but the one I'm most proud of is DADDY, and I think when she gets old enough to watch and understand this tribute, it will touch her heart the way she did mine."
Goldenchild wanted to thank P.C. who produced the beat, Lucian for adding his soulful vocals, and Abdul for his photography and editing which helped him turn the footage into a testimony. The song was recorded at
Union Station Studios. He offers special thanks to Aaliyah's mom and all the mothers in the world. "I now understand what you have to go through to help create life."

"To all those who said a prayer for us while following on facebook etc, we thank you from the bottom of our hearts. GOD IS GOOD," said the Bahamian rapper.

Watch the Music Video:

Baby Don't Worry







About the artist:

Goldenchild's art of performing came from his experience with local talent shows in The Bahamas, displaying his unique vocals and high energy stage shows in his early teens. At the age of sixteen, Goldenchild began looking at his talent, and love for the art of rap as something that could possibly become a career. He hooked up with a high school classmate and formed a group called "Dangerous Minds". As a group, "Dangerous Minds" began recording, performing, and opening up for acts such as Elephant Man, Patra, Ludacris at Stop the Violence concerts, a local concert series hosted on Grand Bahama Island. At the height of their local fame, the second member of the group became incarcerated. This event threw Goldenchild for a loop forcing him to give up or start from scratch. Determined to keep his dream alive, Goldenchild began recording solo material and was encouraged to take tracks to the local radio station by his growing fan base. His song "Hot Girls" had a lot of commercial appeal with it's catchy hook and age appropriate lyrics, and soon began being requested on a daily basis on the local radio station.
After a few months of radio spins, there was a demand for more material and at this point the idea for a mix tape was born. When the mix tape was completed Goldenchild was a senior in high school and had a huge dilemma on his hands, seeing that he was also a stand out basketball player. After some convincing from his parents and basketball coach, Goldenchild left for college on a full basketball scholarship.
A year into his studies, Goldenchild felt something missing and decided to leave the ball behind to once again pick up the mic. After a brief stint back home in the islands, Goldenchild set his sights on moving to Florida which was becoming a hot bed for the movers and shakers in the entertainment industry.
Upon arrival in Florida, Goldenchild began collaborating with the local group and soon became it's fourth member. After recording a few mix tapes and being on compilations with some of Miami's finest, Goldenchild's marketable image and star quality was being noticed. People began requesting solo material from the island born and bred MC. With a growing fan base and online following, Goldenchild is now poised to put The Bahamas on the map as a solo international artist.
Goldenchild is proving that hip hop is not just a type of music but a culture that he has not only embraced but has become a part of.

The artist can be reached at www.puregoldentertainment.com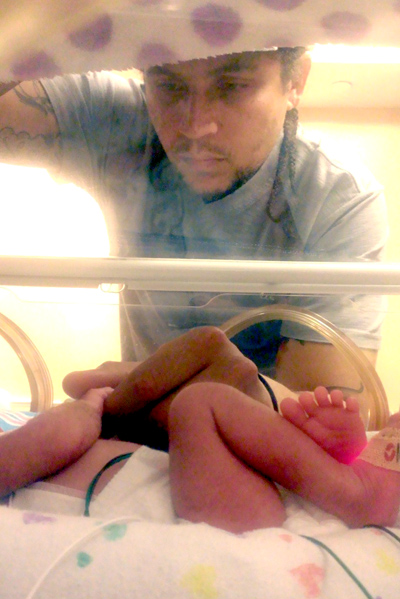 Goldenchild looks over his first born, Aaliyah Samaya Mellody Carey born 2 pounds, 12 ounces.