Last Updated:

Feb 6, 2017 - 2:32:04 PM
---

Photos: Dave Mackey

Freeport, Grand Bahama Island – Saturday May 1st, 2010 Naturally 7 treated Grand Bahamians to
an exhilarating
jaw dropping concert that could easily be described as truly an experience of a lifetime. From beginning to end, there was never a dull moment as Naturally 7 went from song to amazing song during their two hours plus performance; boldly taking the human voice to where no one thought it could go. Indeed, Naturally 7 Live was a family event. Attendees all agreed they received more than their money's worth.

Naturally 7's multi-talented band members Roger Thomas (musical director, arranger, 1st Baritone, Rap), Warren Thomas (percussion, guitar, clarinet, 3rd tenor) Rod Eldridge (1st tenor, scratching, trumpet), Jamal Reed (4th Tenor, electric guitar), Dwight Stewart (2nd baritone), Garfield Buckley (2nd Tenor, Harmonica) and "Hops" Hutton (Bass) took their audience on a mesmerizing musical journey. They were taken them from funk to gospel, Motown to Abbey Road and back with snippets of Hip Hop along the way.

In addition to their hit singles 'Wall of Sound' and "In The Air Tonight", Naturally 7 performed tunes made popular by The Beatles, Simon and Garfunkel, Michael Jackson and more to an audience that relished every moment. Naturally 7 responded to relentless audience pleas for an encore performance with two additional songs.

Upon arrival in the auditorium concertgoers were greeted by the tropical sound of the

Bishop Michael Eldon School Sr. Steel Pan Band

. The evening was off to a rousing start by a Capella renditions of the Star Spangled Banner and March on Bahamian by the talented

Starlighters

trio.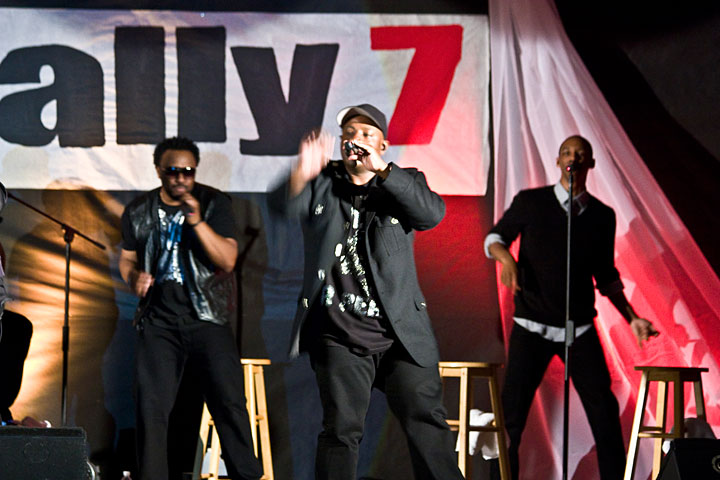 The humorous antics of MC, David Wallace, assured that there was never a dull moment before the show or during intermission. At intermission, David challenged audience members to come on stage and attempt to do Vocal-Play, which is the copyrighted term that Naturally 7 created to define the way they perform their music using solely their voices without any instruments. Three brave young persons came on stage during intermission and entertained the crowd. The big intermission surprise was when Grand Bahama Performing Arts Society founder, Dalia Feldman came on stage and performed a portion of the Broadway show tune, "Popular" to thunderous applause.

Naturally 7 expressed their gratitude for the warm hospitality they received, from their red carpet arrival to the Junkanoo Rush Out they participated in at the end of their Sunday May 2nd workshop at Bishop Michael Eldon Auditorium.

Following the concert The Grand Bahama Performing Arts Society hosted a gala VIP reception at Agave Latin Fusion Restaurant and Bar in Port Lucaya where persons had the chance to meet and mingle with Naturally 7 one on one.

Dalia Feldman, founder of The Grand Bahama Performing Arts Society, gave special thanks to their sponsors for this event, The Harnisch Family Philanthropies, Thayer's Natural Remedies, Pelican Bay at Lucaya, American Airlines, The Bahamas Weekly, Mackey Media and H. Forbes Charters. The Grand Bahama Performing Society can be reached at gbperform@gmail.com






© Copyright 2010 by thebahamasweekly.com

Top of Page