Nassau, Bahamas - Shatoya Smith is one episode away from learning if the coveted record deal with Elevation Records, a music video and $5,000 in cash and prizes will be hers. The 29 year-old is one of four remaining contestants on 242Untapped, the search for the next Bahamian gospel superstar. The show is airing on Cable12 on Saturday evenings and right here on The Bahamas Weekly.
Shatoya entered the competition singing T'is So Sweet To Trust In Jesus for her audition and revealed that she is saving a well known Donald Lawrence song to see if it will help her get to the top spot.
The Androsian who now resides in New Providence is grateful for the opportunity and hopes it takes her one step closer to breaking professionally into the market her gospel icons Cece Winans and Karen Clarke Sheard have mastered. An inside source with the show revealed that she left an impact on the judges by continuing to push through the season, despite her pregnancy and even had to sit on a stool a few times to deliver her performances.
"I have what it takes to win because of my drive… being pregnant and filming was very hard and strenuous on me not being able to breathe properly," Shatoya says. "Despite being tired, I still seek a uniqueness to bring because I am not just a basic gospel singer. My voice can adapt to any genre of music."
Shatoya, who admitted that her favorite judge is Jonny Farrington, says she wasn't quite sure why she auditioned because it was such a last minute thing.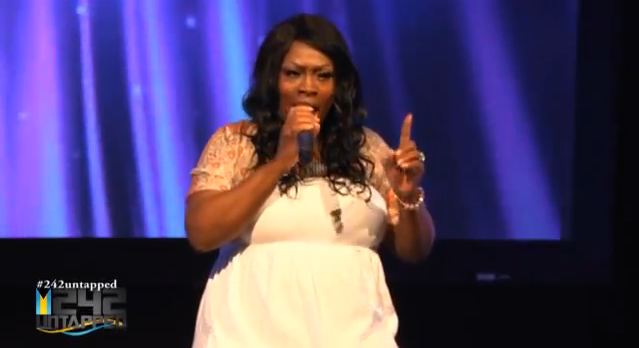 Shatoya Smith makes the finals on 242Untapped


"I knew nothing of the show but I always prayed to God to make a way for me to use the gift He has given me to magnify His name and to have some kind of an impact on people," she said. "A friend called me the last day to enter the competition and she said, 'Toya , there is this gospel show and you need to enter now, and today is the deadline'. So in my mind I said this is an answered prayer. It's never been about the prize for me – it's just being awarded the opportunity to sing."

"Singing is like a mood stabilizer for me and has a way of comforting whatever mood I am in," she added.

And just what would be the most exciting thing about this win for Shatoya, we wondered?

"Well it would be nice to finally have some kind of exposure," she beams. "All my life, I feel I have been a hidden talent that was never discovered and being from the island of Andros I am definitely not acquainted with people in the gospel music industry. So winning would be nice to just to expose the talent I have buried within me that has been waiting years to come out."

For more videos, visit www.242untapped.com