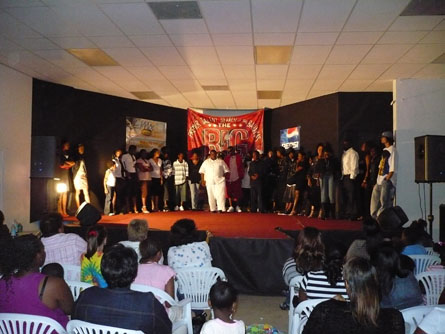 All 31 contestants waiting for their assessments at the end of Round 2, April 28, 2007


One hundred auditioned and after four weeks of Round 1 competition, the judges progressed to a large Round 2 showcase this past Saturday, April 21st at the YMCA. A total of thirty-one contestants took to the stage giving the large audience on hand great entertainment and a mix of gospel, hip hop, rap, contemporary, and more. There were even two dance numbers competing. This coming Saturday the top three winners will be announced.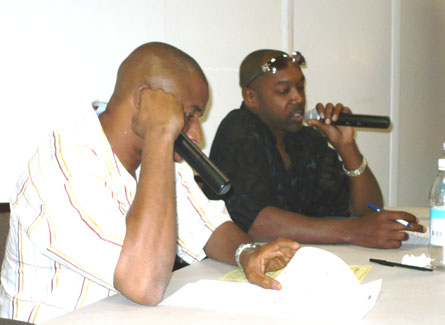 Barron McClegdon and Marlyn Rolle critiquing a contestant


Like a Bahamian version of "American Idol", over fifteen persons were eliminated. Unlike "Simon", these judges (Marlyn Rolle and Barron McClegdon, this past Saturday) were a lot more gentle, each time telling the contestant first how they were good, before critiquing disappointments or areas of improvement. A couple contestants were eliminated for inappropriate words, or gestures, as being hosted at the YMCA, which promotes youth development and family, the Stage Show is geared toward community and family. Proceeds from this six-week event are going to the YMCA rebuilding and repair fund.


Karon Pinder-Johnson, the YMCA Executive Director MC'd the last showcase and was a delight on the mic, often chiming out in song herself and breaking a few moves in theme with the songs just performed; but most of all being one hundred percent supportive to each contestant.

So this Saturday, April 28th The Big Stage Show will come to its exciting conclusion. Three of the 15 contestants will get an opportunity to travel to Atlanta, where they will get to produce a record, with all expenses paid, u nder the direction of Alvin Speights , a three-time Grammy Award Winner!

All the contestants that made it into Round 2, like Karon Pinder-Johnson said, "...are all winners". This event has taught each one of them much discipline to rehearse under pressure, and perform and be judged in front of an audience. I myself, and like Karon, were impressed mostly with the rappers, who wrote their own lyrics for each performance, some even writing lyrics that touched on the very show they were performing in, or current events.

The final 16 contestants are: Dudley Caproni, Ayfere, Sharede Taylor, Rappquelle, Trent Carter, All Stars, Alexus, Just Gina, Burnai Capron, Erica, Chast, Bobby Blatch, Trekeiece Douglas, Raquel Oliver, Keaira Watson, Naughty, and Dano Rolle.

If you wish to be a part of the audience this Saturday, the show starts at 8:00pm and the admittance is $10.00 for adults and $7.00 for children 12 and under. Alvin Speights will be on hand for the final judging.

You can visit the Show's website at : www.thebigstageshow.com

Photos can be viewed large - just click on image. If you are a contestant and your image is not here, please email robbin@thebahamasweekly.com and request it. This gallery is at its maximum.