Last Updated:

May 18, 2020 - 4:38:46 PM
---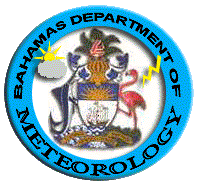 NEWS ITEM

NEWS ITEM ON TROPICAL STORM ARTHUR ISSUED BY THE BAHAMAS DEPARTMENT OF METEOROLOGY FORECAST OFFICE SECTION, AT 12:00 PM EDT, MONDAY 18TH MAY 2020.

...CENTER OF ARTHUR PASSING JUST SOUTHEAST OF CAPE HATTERAS...
...STORM BRINGING HEAVY RAINFALL AND GUSTY WINDS TO PORTIONS OF EASTERN NORTH CAROLINA...

AT 11:00 AM EDT, THE CENTER OF TROPICAL STORM ARTHUR WAS LOCATED NEAR LATITUDE 35.1 NORTH, LONGITUDE 75.2 WEST OR 20 MILES EAST-SOUTHEAST OF CAPE HATTERAS, NORTH CAROLINA.

A TURN TOWARD THE NORTHEAST IS EXPECTED LATER TODAY, FOLLOWED BY A TURN TOWARD THE EAST ON TUESDAY. A SLOWER SOUTHEAST OR SOUTH-SOUTHEAST MOTION IS FORECAST TO BEGIN TUESDAY NIGHT AND CONTINUE THROUGH WEDNESDAY. ON THE FORECAST TRACK, THE CENTER OF ARTHUR WILL BEGIN MOVING AWAY FROM THE NORTH CAROLINA OUTER BANKS THIS AFTERNOON. ARTHUR IS THEN FORECAST TO TURN AWAY FROM THE EAST COAST OF THE UNITED STATES TONIGHT AND TUESDAY.

MAXIMUM SUSTAINED WINDS ARE NEAR 50 MPH (85 KM/H) WITH
HIGHER GUSTS. SOME ADDITIONAL STRENGTHENING IS FORECAST DURING THE NEXT 24 HOURS. LITTLE CHANGE IN STRENGTH IS EXPECTED TUESDAY NIGHT AND WEDNESDAY.

THE NEXT NEWS ITEM WILL BE ISSUED AT 6:00 PM EDT, MONDAY 18TH MAY 2020.

PREPARED BY ON DUTY FORECASTER: S. SEARS/IAN V. MCKENZIE
ISSUED: MONDAY 18TH MAY 2020 @ 11:30 AM EDT.






© Copyright 2020 by thebahamasweekly.com

Top of Page