Last Updated:

Oct 16, 2019 - 10:36:35 AM
---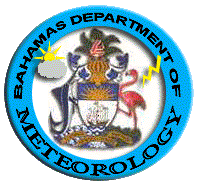 NEWS ITEM

NEWS ITEM ON REMNANTS OF TROPICAL DEPRESSION FIFTEEN ISSUED BY THE BAHAMAS DEPARTMENT OF METEOROLOGY FORECAST OFFICE SECTION, AT 6AM EDT, WEDNESDAY 16TH OCTOBER 2019.

...LAST ADVISORY AS DEPRESSION DEGENERATED INTO A TROUGH...

AT 5AM EDT, THE REMNANTS OF TROPICAL DEPRESSION FIFTEEN WAS LOCATED NEAR LATITUDE 17.3° NORTH AND LONGITUDE 24.1° WEST, OR ABOUT 90 MILES NORTH OF THE CABO VERDE ISLANDS.

THE REMNANTS ARE MOVING TOWARD THE NORTHWEST NEAR 8 MPH (13 KM/H), AND THAT MOTION SHOULD CONTINUE TODAY.

MAXIMUM SUSTAINED WINDS ARE NEAR 30 MPH (45 KM/H) WITH HIGHER GUSTS. THE SYSTEM SHOULD WEAKEN FURTHER TODAY.

THIS IS THE LAST NEWS ITEM ON THIS SYSTEM.

PREPARED BY FORECASTER: SHEZELLE MATHER

ISSUED: 16/10/2019 @ 530AM.







© Copyright 2019 by thebahamasweekly.com

Top of Page