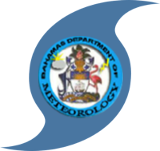 NEWS ITEM ON TROPICAL STORM PAULETTE ISSUED BY THE BAHAMAS DEPARTMENT OF METEOROLOGY FORECAST OFFICE SECTION, AT 6:00 AM WEDNESDAY 09TH, SEPTEMBER 2020
…SHEARED PAULETTE JOGS TO THE WEST, EXPECTED TO TURN WEST-NORTHWESTWARD LATER TODAY…

AT 5:00 AM AST THE CENTER OF TROPICAL STORM PAULETTE WAS LOCATED NEAR LATITUDE 19.2° NORTH AND LONGITUDE 45.6° WEST OR ABOUT 1145 MILES EAST OF THE NORTHERN LEEWARD ISLANDS.

PAULETTE IS MOVING TOWARD THE WEST AT 8 MILES PER HOUR. A TEMPORARY WESTWARD MOTION IS EXPECTED ON FRIDAY, A TURN BACK TOWARD THE WEST-NORTHWEST IS EXPECTED ON FRIDAY.

MAXIMUM SUSTAINED WINDS ARE NEAR 60 MILES PER HOUR WITH HIGHER GUSTS. LITTLE CHANCE IN STRENGTH IS FORECAST TODAY, WITH GRADUAL WEAKENING ANTICIPATED ON THURSDAY AND FRIDAY.

THE NEXT NEWS ITEM WILL BE ISSUED AT 12:00 PM

PREPARED BY FORECASTER: ANASTASHIA FERNANDER

09/09/2020 09:30 UTC