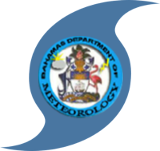 NEWS ITEM
NEWS ITEM ON TROPICAL DEPRESSION RENE ISSUED BY THE BAHAMAS DEPARTMENT OF METEOROLOGY FORECAST OFFICE SECTION, AT 6:00 AM WEDNESDAY 09TH, SEPTEMBER 2020

…RENE EXPECTED TO REGAIN TROPICAL STORM STATUS LATER TODAY …

AT 5:00 AM AST, THE CENTER OF TROPICAL DEPRESSION RENE WAS LOCATED NEAR LATITUDE 17.4° NORTH AND LONGITUDE 30.5° WEST OR ABOUT 440 MILES WEST-NORTHWEST OF THE CABO VERDE ISLANDS.

RENE IS MOVING TOWARD THE WEST-NORTHWEST AT 14 MILES PER HOUR.

MAXIMUM SUSTAINED WINDS ARE NEAR 35 MILES PER HOUR WITH HIGHER GUSTS.

RENE IS EXPECTED TO BECOME A HURRICANE IN A COUPLE OF DAYS. THE NEXT NEWS ITEM WILL BE ISSUED AT 12:00 PM

PREPARED BY FORECASTER: ANASTASHIA FERNANDER

09/09/2020 09:40 UTC