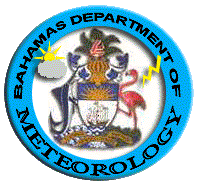 NEWS ITEM ON TROPICAL STORM CRISTOBAL ISSUED BY THE BAHAMAS DEPARTMENT OF METEOROLOGY, FORECAST OFFICE SECTION AT 6PM EDT, WEDNESDAY 3RD JUNE 2020.




...CRISTOBAL WEAKENING VERY SLOWLY WHILE MOVING OVER LAND...


...THREAT OF HEAVY RAIN AND FLOODING CONTINUES...




AT 5 PM EDT, THE CENTER OF TROPICAL STORM CRISTOBAL WAS LOCATED NEAR LATITUDE 18.3°NORTH AND LONGITUDE 91.8° WEST, OR ABOUT 20 MILES SOUTH OF CIUDAD DEL CARMEN, MEXICO.





CRISTOBAL IS MOVING TOWARD THE SOUTH-SOUTHEAST NEAR 3 MILES PER HOUR, AND A TURN TOWARD THE SOUTHEAST NEAR 3 MILES PER HOUR AND A TURN TOWARD THE EAST IS EXPECTED BY TONIGHT. A TURN TOWARD THE NORTH-NORTHEAST AND NORTH IS EXPECTED ON THURSDAY AND FRIDAY. THE CENTER IS FORECAST TO MOVE BACK OVER THE SOUTHERN GULF OF MEXICO BY FRIDAY AND OVER THE CENTRAL GULF OF MEXICO ON SATURDAY.





MAXIMUM SUSTAINED WINDS ARE NEAR 50 MILES PER HOUR WITH HIGHER GUSTS. SLOW WEAKENING WILL OCCUR WHILE THE CYCLONE MOVES OVER LAND AND CRISTOBAL WILL LIKELY BECOME A TROPICAL DEPRESSION BY THURSDAY EVENING. SOME RE-STRENGTHENING IS EXPECTED TO BEGIN ON FRIDAY.

CRISTOBAL POSES NO THREAT TO THE BAHAMAS.




THE NEXT NEWS ITEM WILL BE ISSUED AT 6 AM THURSDAY.




PREPARED BY DUTY FORECASTER: IAN V. MCKENZIE/ S. SEARS
ISSUED: 03/06/2020 @ 5:37 PM EDT.