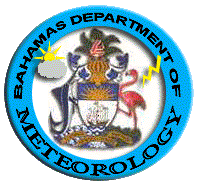 NEWS ITEM ON TROPICAL STORM BARRY ISSUED BY THE BAHAMAS DEPARTMENT OF METEOROLOGY FORECAST OFFICE SECTION, AT NOON FRIDAY, 12TH JULY 2019.
… TROPICAL STORM CONDITIONS SPREADING ACROSS PORTIONS OF SOUTHEASTERN LOUISIANA…….

AT 11:00 AM EDT, TROPICAL STORM BARRY WAS LOCATED NEAR LATITUDE 28.4°NORTH AND LONGITUDE 90.6° WEST OR ABOUT 105 MILES WEST-SOUTHWEST OF THE MOUTH OF THE MISSISSIPPI RIVER AND 100 MILES SOUTH-SOUTHEAST OF MORGAN CITY LOUISIANA.

BARRY IS MOVING TOWARD THE WEST-NORTHWEST AT 5 MILES PER HOUR AND A MOTION TOWARD THE NORTHWEST IS EXPECTED TO BEGIN LATER TODAY, FOLLOWED BY A TURN TOWARDS THE NORTH ON SATURDAY. ON THE FORECAST TRACK THE CENTER OF BARRY WILL APPROACH THE CENTRAL OR SOUTHEASTERN COAST OF LOUISIANA TONIGHT AND THEN MAKE LANDFALL OVER CENTRAL LOUISIANA COAST ON SATURDAY.

MAXIMUM SUSTAINED WINDS ARE NEAR 65 MILES PER HOUR WITH HIGHER GUSTS. STRENGTHENING IS EXPECTED BEFORE LANDFALL AND BARRY IS EXPECTED TO BECOME A HURRICANE WHEN THE CENTER REACHES THE LOUISIANA COAST.

THIS SYSTEM POSES NO THREAT TO THE BAHAMAS.

THE NEXT NEWS ITEM WILL BE ISSUED AT 6PM FRIDAY 12TH JULY 2019.

PREPARED BY DUTY FORECASTER: PATRICIA WEEKS 12 July, 2019.