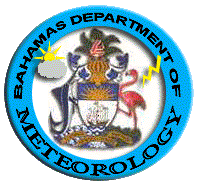 THIS IS A NEWS ITEM ON NEWLY FORMED TROPICAL DEPRESSION NUMBER TWO ISSUED BY THE BAHAMAS DEPARTMENT OF METEOROLOGY FORECAST OFFICE AT 12 PM EDT, MONDAY 14TH JUNE 2021.





…TROPICAL DEPRESSION FORMS OFFSHORE OF NORTH CAROLINA AND HEADING AWAY FROM THE UNITED STATES.




AT 11AM EDT, THE CENTER OF TROPICAL DEPRESSION TWO WAS LOCATED NEAR LATITUDE 35.0° NORTH AND LONGITUDE 73.7° WEST, OR 105 MILES EAST OF CAPE HATTERAS NORTH CAROLINA.




THE DEPRESSION IS MOVING TOWARD THE NORTHEAST NEAR 21 MPH AND THIS GENERAL MOTION IS EXPECTED THROUGH WEDNESDAY WITH INCREASING FORWARD SPEED.




MAXIMUM SUSTAINED WINDS ARE NEAR 35 MILES PER HOUR WITH HIGHER GUSTS. THE DEPRESSION IS EXPECTED TO BECOME A TROPICAL STORM BY TONIGHT AND COULD CONTINUE TO STRENGTHEN ON TUESDAY.




PREPARED BY DUTY FORECASTER: PATRICIA WEEKS(CMO)


ISSUED: 14/05/2021 @ 1540 UTC.