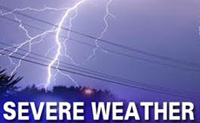 SEVERE WEATHER WARNING UPDATE
THE BAHAMAS DEPARTMENT OF METEOROLOGY HAS REISSUED A SEVERE THUNDERSTORM WARNING FROM 7:30 AM UNTIL 9:30 AM SUNDAY 18TH OCTOBER 2020.

A SEVERE THUNDERSTORM WARNING IS IN EFFECT FOR NORTH AND CENTRAL ABACO, RAGGED ISLAND, LONG ISLAND, CROOKED ISLAND, ACKLINS AND THEIR ADJACENT WATERS AND NOW INCLUDES INAGUA AND ITS ADJACENT WATERS.

AT 7:25 AM, LIGHTNING DETECTOR, RADAR AND SATELLITE IMAGERY DEPICTED MODERATE TO HEAVY RAINFALL WITH SOME EMBEDDED STRONG THUNDERSTORMS, ASSOCIATED WITH PRE-FRONTAL ACTIVITY AND TROUGHING MOVING TOWARD AND ACROSS THE WARNING AREAS.

SOME OF THESE THUNDERSTORMS WILL BE SEVERE AT TIMES CAUSING STRONG GUSTY WINDS, DANGEROUS LIGHTNING, HEAVY DOWNPOURS, HAIL AND POSSIBLE WATERSPOUT OR TORNADIC ACTIVITY. LOCALIZED FLOODING IS LIKELY DURING THE PASSAGE OF THESE STORMS.

BOATERS IN THE WARNING AREAS SHOULD SEEK SAFE HARBOUR AND RESIDENTS IN THE WARNING AREAS SHOULD STAY INDOORS AND AWAY FROM WINDOWS WHEN CONDITIONS WORSEN. RESIDENTS SHOULD NOT SEEK SHELTER UNDER TREES OR IN WATER AS THESE CAN BECOME LIGHTNING CONDUCTORS.

ISSUED BY DUTY FORECASTER: S. SEARS ISSUED: 18/10/20 @ 7:26 AM