Last Updated:

Feb 6, 2017 - 2:32:04 PM
---
Freeport, Bahamas - The 4 day film festival, FLIFF On Location: Grand Bahama Island wrapped on Sunday, October 28th with an awards ceremony and official closing at the Pelican Bay Hotel's Canal House after what organizers could thankfully say was a successful event despite the effects of Hurricane Sandy.

Pelican Bay Hotel general manager and chairman of the Grand Bahama Island Tourism Board, Magnus Alnebeck gave remarks and offered thanks to the visiting filmmakers who despite receiving advance notice of what they could expect with hurricane conditions in Grand Bahama, decided to brave the ship ride over on the Bahamas Celebration with rough seas, and ensuing island conditions, resulting in the event being able to move forward as planned.


The outcome was worth it, as the opening night boasted a full event and numbers continued to be stable throughout the entire weekend at screenings and the Career Achievement tribute to Giancarlo Esposito which was sponsored by the Grand Bahama Port Authority.

After the bad weather passed and the sun peaked through the clouds the filmmakers were able to take a familiarization trip on Saturday and were shown some of the island's beautiful locations in hopes to lure them back to Grand Bahama for future film projects.


Audiences were treated to a fantastic lineup of films over the four days thanks to FLIFF. Films screened came from Cuba, USA, Cameroon, France, and of course The Bahamas.

Movie goers were thrilled to rub shoulders and speak with visiting stars and filmmakers, watch a wide array of film genres as well as check their emails and charge up their cell phones before returning home to blackout conditions for those without generators.

The weekend culminated with a heartfelt but simple awards ceremony on Sunday before the filmmakers and organizers faced the next challenge of getting them all safely home with the airport being flooded.


Bahamian film winners were:


Open Category -

The Price of Being a Man

- Edmund S. Moxey
College Category -

Who Are We?

- Brittney Armbrister
High School Category -

The Blame

- Tiahjah Smith

The international films winners were:

Best Film - Drama:

Una Noche

Best Film - Comedy:

Sex, Lies & Surgery


Best Film - Comedy / Drama:

Supporting Characters


Best Documentary:

The Black Miami


Most Innovative: How Do You Write Joe Schermann Song

International filmmakers left safely thanks to the generous support of Celebration Cruise Lines and felt their stay and experience was something they would never forget.

"What an amazing adventure! To stay at such an accommodating hotel with such great filmmakers and hosts, it made the FLIFF on location incredibly special. Even with the storm, the hotel and their staff went above and beyond making sure that we we're all comfortable! Thanks to everyone for a unforgettable experience."
Carlton Smith, Producer/Director, The Black Miami (USA)

"What struck me most was just how different all the films were (broad comedies, dark dramas, documentaries) yet they were all so strong, specific and special. The result being that I was so much less competitive than normal, and so much more inspired." Daniel Schecher,
Director/

Co-Writer, Supporting Characters (USA)


"FLIFF was an amazing experience on many levels. Despite the hurricane we got to see great movies and meet inspiring filmmakers both from The Bahamas and other countries. We were blown away by the warm Bahamian reception. I would love to shoot there in the future. Thank you so much for inviting us." Lucy Mulloy, Director/Writer, Una Noche (Cuba)
"FLIFF on Location in Grand Bahama was an amazing mix of filmmakers, friends and culture, all of which made my stay a truly remarkable experience, I'd love to live again and again. Suffice it to say, FLIFF on Grand Bahama rocks!"
Tarik Lowe,
Co-Writer/Star, Supporting Characters (USA)

"I truly enjoyed my experience at FLIFF Grand Bahama. The intimate setting allowed me to connect with the audience and the other filmmakers there, which is not always the case at other festivals. I was definitely inspired by and honored to be included in the diverse mix of programming. I look forward to seeing the festival grow in the coming years and am proud to have been a part of it from nearly the beginning."
Gary King, Director, Writer, How Do You Write a Joe Schermann Song (USA)
FLIFF On Location: Grand Bahama Island is a collaboration between the Fort Lauderdale International Film Festival, the Bahamas Ministry of Tourism and Grand Bahama Island Tourism Board. The event has been made possible through the generous support of the following sponsors: Pelican Bay Hotel; TheBahamasWeekly.com; Mackey Media Ltd; Bahamas Celebration Cruises; Bahamasair; Balearia Bahamas Express; Grand Bahama Port Authority and Group of Companies; Grand Bahama Island Tourism Board; FLIFF; Ministry of Tourism and SkyBahamas Airlines.
Related article: FLIFF On Location: Grand Bahama Island goes ahead despite weather conditions


For more photos and information go to FLIFF 2012 on Location: Grand Bahama Island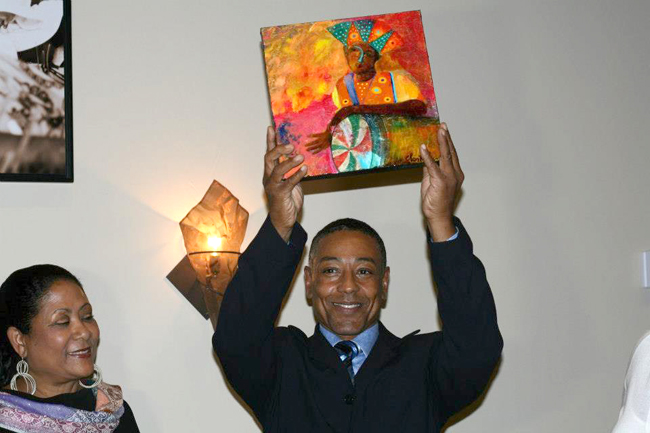 © Copyright 2012 by thebahamasweekly.com

Top of Page