Last Updated:

Feb 6, 2017 - 2:32:04 PM
---
Giancarlo Esposito to receive Career Achievement Award at FLIFF on Location: Grand Bahama Island


By The Bahamas Weekly News Team
Oct 14, 2012 - 12:17:32 PM


Email this article
Mobile friendly page


Freeport, Bahamas - Celebrated television, film and stage actor,

Giancarlo Esposito

, whose acting career spans over several decades has been named as this year's

Career Achievement Award

recipient at

FLIFF on Location: Grand Bahama Island

taking place from

October 25th through 28th

, 2012 at the Pelican Bay Hotel.

Esposito has appeared in notable films such as "Rabbit Hole," "The Usual Suspects," "Smoke" and "The Last Holiday." His performances in Spike Lee's films "Do the Right Thing", "Mo' Better Blues," "School Daze" and "Malcolm X" are among his most memorable.

"We are thrilled to honor Giancarlo Esposito with a Career Achievement Award, which is so richly deserved," said Gregory von Hausch, Founder, FLIFF . "Giancarlo is a gentle, kind and sincere person, and so very successful at his craft. He has been in big and small films, on TV and the stage, and wherever he appears he brings his heart and soul with him."

Esposito's other film credits include outstanding performances in "SherryBaby," "Ali," "Nothing to Lose," "Waiting to Exhale," "Bob Roberts", "King of New York" and "Cotton Club." In 1995, Esposito was recognized for his incredible work in "Fresh" with a nomination for an Independent Spirit Award.

Attendees of the film festival, which is an offshoot of the Fort Lauderdale International Film Festival (FLIFF) can attend the special tribute event honouring Esposito on Saturday, October 27th at the Canal House at Pelican Bay.

Most recently, Esposito has earned rave reviews starring in AMC's critically acclaimed award-winning series "Breaking Bad." He recently won the 2012 Critics Choice Award for his portrayal and is a 2012 Emmy® nominee as well.

In 2007 through his production company, Quiet Hand Productions, Esposito made his feature directorial debut with the film "Gospel Hill." He also co-starred with Danny Glover, Angela Bassett, Julia Stiles, Taylor Kitsch and Samuel L. Jackson. Quiet Hand Productions aspires to make "conscious content" films that focus on the inspirational. The company currently has four other projects in development, in which Esposito plans to direct, produce and co-star. One of these projects "This is Your Death," is an unflinching look at reality TV.


He next co-stars in JJ Abrams upcoming drama series for NBC, "Revolution," and this October he appears as a crime boss opposite Tyler Perry in Lionsgate's "Alex Cross."

Esposito is a yoga enthusiast and spends his free time riding his motorcycle and practicing the saxophone. He is also a proud board member of the Creative Coalition, an arts and advocacy group that champions the First Amendment. He also lends his support to other various organizations that support the arts and education.




FLIFF On Location: Grand Bahama Island

is a collaboration between the Fort Lauderdale International Film Festival, the Bahamas Ministry of Tourism and Grand Bahama Island Tourism Board. The event has been made possible through the generous support of the following sponsors: Pelican Bay Hotel; TheBahamasWeekly.com; Mackey Media Ltd; Bahamas Celebration Cruises; Bahamasair; Balearia Bahamas Express; Grand Bahama Port Authority and Group of Companies; Grand Bahama Island Tourism Board; FLIFF; Ministry of Tourism and SkyBahamas Airlines.


The film festival will feature: Films made in The Bahamas; Underwater Cinematography Workshop, including a shark dive, by award-winning cinematographer Paul Mockler; Independent Films from around the world; Complimentary outdoor screenings; and Student Film Competitions. For more information go to FLIFF 2012 on Location: Grand Bahama Island event page on Facebook.

ALL FESTIVAL INFO HERE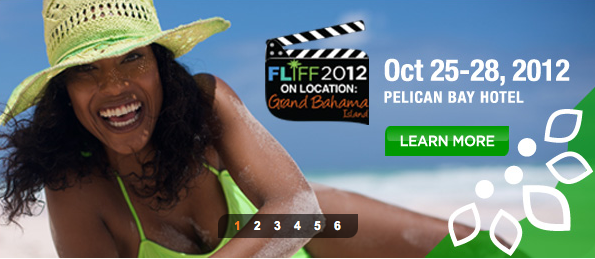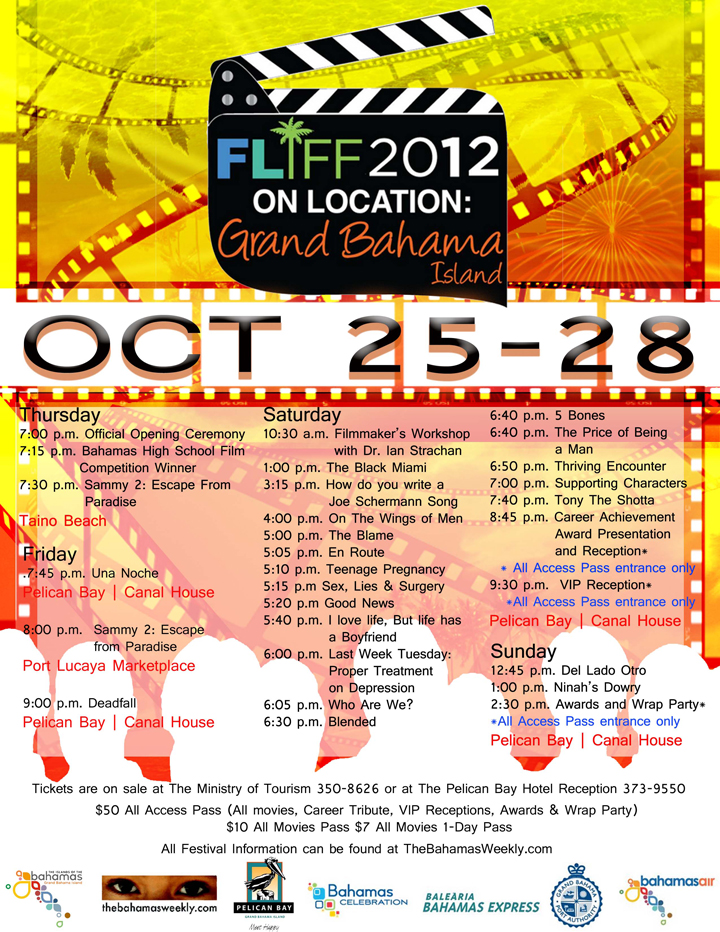 © Copyright 2012 by thebahamasweekly.com

Top of Page