Last Updated:

Feb 6, 2017 - 2:32:04 PM
---
fliff 2013 intro final from mackeymedia on Vimeo.
Freeport, Bahamas - The filmmakers have arrived!

The third installment of

FLIFF on Location: Grand Bahama Island 2013

will take place in Freeport from

October 31 – November 3rd

at the Pelican Bay Hotel in their state-of-the-art Canal House facility.

Friday and Saturday are packed with events and films you'll want to attend so why not opt for the

FLIFF All Access Pass

for only $20, which gets you in to ALL films for the entire event, including all the workshops, and our

closing day awards and wrap party

! Tickets are on sale now at Pelican Bay Hotel.



The following is this year's schedule. Note that all the

Italicized

film names are from The Bahamas.



FLIFF ON LOCATION: GRAND BAHAMA ISLAND OFFICIAL SCHEDULE:






THURSDAY, OCTOBER 31ST



10:00 a.m. Jonathan Bird's BLUE WORLD I, Canal House (Free. Q & A with Jonathan Bird) [pg. 109]
7:00 p.m. - Official Opening, SAMMY 2. Taino Beach, (screening of High School Competition winner) FREE



FRIDAY, NOVEMBER 1ST (All programs Nov 1-3 take place at Canal House)



10:00 a.m. Jonathan Bird's BLUE WORLD Program II with Jonathan Bird [pg. 109]
1:00 p.m. Mr. Florida Film, William Grefe recounts stories of Indie Filmmaking [pg. 32]
2:00 p.m. LITTLE ONE (South Africa) 84 min. [pg. 75]
4:00 p.m. Short n Funny, a collection of hilarious films
7:00 p.m.

Frapper Avec Amour

(Hit with Love), Nathaniel Lewis [pg. 126]
7:25 p.m.

When We Meet

, Tyler Johnstone
7:30 p.m. BROCHE DEL ORO (Puerto Rico), Special Guest Diego de la Texera [pg. 44]
7:35 p.m.

Music of Life

, David Hanna
7:55 p.m.

Mercantile

, Basil Lewis
8:30 p.m. Passage, Kareem Mortimer [pg. 54]
8:30 p.m. A PERFECT MAN (Netherlands), 95 min. with, Joelle Carter, Star on the Horizon, [pg. 86]
9:05 p.m.

Eric & Coletta

, Conrad Knowles



SATURDAY, NOVEMBER 2ND



10:00 a.m. Stories That Matter, workshop with Dr. Ian Strachan
11:00 a.m. Writing, Producing, Directing & Acting an American Indie, with Jayce Bartok and Tiffany Bartok
12:05 p.m. Keep G. B. Clean Anniversary, Nina Sanchez; Keep G.B. Clean, Commercial, Vashti Charlton
12:20 p.m.

Jane Cartwright

, Wiaja Hepburn;

The Good Samaritan

, Joanne Petit Homme.
12:40 p.m.

Bahamians Must Learn to Feed Themselves

, Kenneth Farrington;

Happy 40th Bahamas

, George McInnes;

Teddy Bear

, Delphine Carroll
1:00 p.m. JONATHAN BIRD'S BLUE WORLD Program III, Special Guest Jonathan Bird [pg. 109]
1:30 p.m. Distribution, What's That All About, Workshop, with distributor Jere Rae-Mansfield & Scott Mansfield of Monterray Releasing.
2:00 p.m. CHASING SHAKESPEARE (USA), 116 min. Special Guest Norry Niven [pg. 47]
2:05 p.m.

Turning Point

, Vanessa McIntosh/Kya McPhee;

Anyone Ever Told Me

, Stephen Hanna;

Father May I,

Sloan Smith;

Rhythms of the Bahamas

, Brittney Armbrister.
4:00 p.m.

Finding Freedom; Drip-Colour My World,

Aryana Joy Roberts
4:25 p.m.

Something's Lurking in the Water

, Marinah Janello
4:30 p.m. GIRL ON A BICYCLE (France), 110 min. Special Guest Jere Rae-Mansfield [pg. 59]
5:00 p.m.

The Mask, I Call Face

, Royell Bowleg.
5:20 p.m.

The Spirit of Junkanoo,

Jamar J/Cam B
5:30 p.m.

Crave

, Bruce Russell
6:15 p.m.

Roses

, Tracey Ann Perpall
6:25 p.m.

Affliction,

Matthew Kelly
7:15 p.m.

Womanish Ways

, Marion Bethel
7:00 p.m. FREE RIDE (USA), 83 min. [pg. 15]

9:00 pm THEY CAME FROM THE SWAMP (USA), 98 min. Special Guest William Grefe [pg. 32]


8:45 p.m.

Trail Blazer, The Mychal Thompson Story,

Gina Rodgers-Sealy



SUNDAY, NOVEMBER 3rd



11:30 a.m. THE ROCKET (Laos), 96 min. [pg. 90]
1:30 p.m. Award Presentations/Wrap Party


Click HERE to see our INDEX PAGE with ALL our press releases
Please keep up with our Facebook page: "Ft. Lauderdale Int'l Film Festival On Location: Grand Bahama Island" for photos and event information-as-it-happens.

Hosted at the Canal House, Pelican Bay Hotel, from October 31st to November 3rd , FLIFF on Location will feature international and Bahamian films in the open, college and high school categories.

Ticket prices are Day Pass $7.00; All Movies $10.00 and All Access Pass (movies, workshops, wrap party), $20.00 and can be purchased at the Pelican Bay Hotel. All films will be screened at Canal House, Pelican Bay except for the opening night film.

FLIFF On Location: Grand Bahama Island is a collaboration between the Fort Lauderdale International Film Festival, the Bahamas Ministry of Tourism and Grand Bahama Island Tourism Board. The event has been made possible through the generous support of the following sponsors: Pelican Bay Hotel; TheBahamasWeekly.com; Mackey Media Ltd; Bahamas Celebration Cruises; The Grand Bahama Port Authority Limited; Grand Bahama Island Tourism Board; FLIFF; and the Grand Bahama Ministry of Tourism.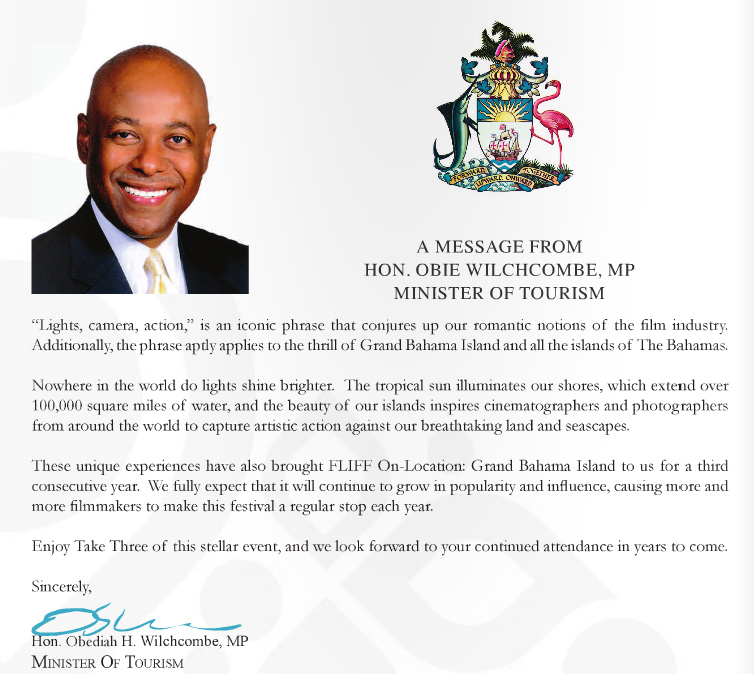 © Copyright 2013 by thebahamasweekly.com

Top of Page