Last Updated:

Feb 13, 2017 - 1:45:37 AM
---

Her Majesty The Queen presented the inaugural Queen's Young Leaders Awards on Monday 22nd June during a ceremony at Buckingham Palace, and Bahamian Alicia Wallace was one of the inaugural 60 recipients of the award. The Queen's Young Leaders Award recognizes exceptional young people from across the Commonwealth who are taking the lead in transforming the lives of others and make a lasting difference in their communities.

"This week has been inspiring and thought-provoking!" said 29-year-old Wallace who lives in Nassau. "The highlights for me were the meeting with the other winners, learning about their projects, and sharing ideas. I'm confident that our work will be strengthened by the connections we have made, both with each other and the other people we have had the pleasure to meet through visits and networking events."

Wallace was selected in recognition of her work as director of Hollaback! Bahamas, which works to end street harassment, and also as co-founder of the Coalition to End Gender-based Violence and Discrimination.

Before receiving their Award at Buckingham Palace the winners met the UK Prime Minister, David Cameron at 10 Downing Street, visited the headquarters of global social networking company, Twitter and met with senior executives at the BBC World Service.

Alicia Wallace said,"I am so happy to be one of the first recipients of the Queen's Young Leaders Award. To be recognised for my work and be presented with an Award by Her Majesty The Queen at Buckingham Palace is such a huge honour."

This year's Award winners are aged between 18 and 29 and are working to support others, raise awareness and inspire change on a variety of different issues including; education, climate change, gender equality, mental health and disability equality.

Following the ceremony on the 22nd June, Award winners are spending four days in the UK to take part in a residential development programme as part of the Award prize. The programme includes workshops at Cambridge University, meetings with UK businesses leaders, and visits to life changing social action projects.

To see a full list of Award winners and Highly Commended runners up, and read more about their stories please visit www.queensyoungleaders.com.

Watch the VIDEO overview.

If you or someone you know is doing inspiring work like this year's Queen's Young Leaders, from 7pm on Monday 22nd June you can apply or nominate someone for a 2016 Award.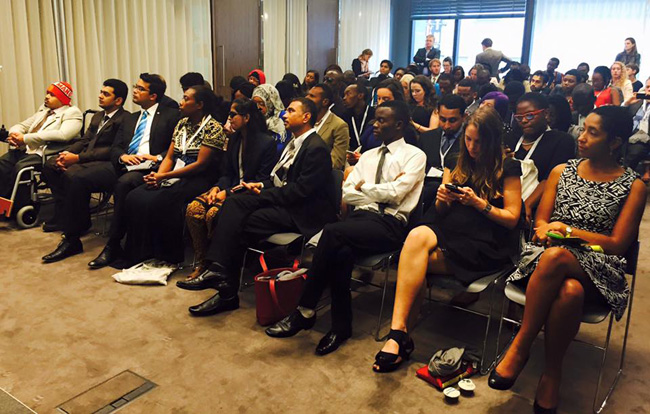 Alicia Wallace

is the director of Hollaback!, an organisation that works to end street harassment in the Bahamas, and co-founder of the Coalition to End Gender-based Violence and Discrimination. She is also launching a new 16-week programme to provide vital life skills education and mentoring to local high school students. Participants will have the opportunity to hear about and discuss a range of issues from personal finance and relationships to entrepreneurship and health care. The student approach is simple, according to Alicia, "It's about engaging them with education and empowering them with education."

Alicia first worked as a volunteer support worker for young women who were at risk of homelessness in Canada whilst studying for her degree. This exposure to homelessness and gender-based inequalities heightened her awareness of the problems for women in her own community upon her return home. These issues play out in everyday life and often go by unnoticed, says Alicia. "Here sexual harassment is only recognised in the work place and even then, only from the top down – so an employer to an employee, but not between two employees."

As a child, Alicia grew up thinking she did not have a voice. Now she says, "I am no longer a quiet little girl. I am a force. My voice is powerful and I have learned to use it."

Alicia is also a columnist on TheBahamasWeekly.com.





© Copyright 2015 by thebahamasweekly.com

Top of Page