Last Updated:

Feb 13, 2017 - 1:45:37 AM
---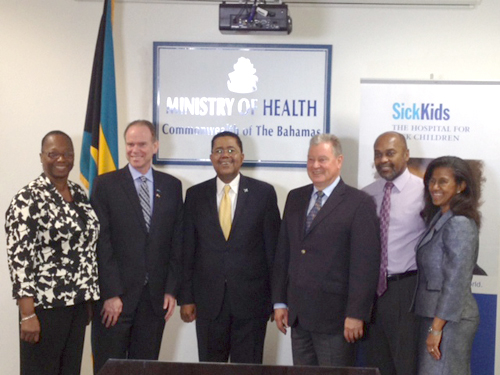 Nassau, Bahamas - Where children live, plays a major role in determining their likelihood of surviving cancer. Countries across the Caribbean tend not have a health-care system that supports the best possible management of paediatric cancer – from proactive screening to early diagnosis and fast intervention. This means some children are not diagnosed until it is too late and those that are, often have difficulty accessing the treatment needed.

The SickKids Foundation of Toronto, Canada is spearheading telemedicine labs throughout the Caribbean region. The Bahamas Telecommunications Company (BTC) is an ongoing partner in the initiative through the Caribbean-SickKids Paediatric Cancer and Blood Disorders (CPCB) Project. Since July 2013, when a cutting edge Telemedicine Lab opened in the Oncology department of the Princess Margaret Hospital thanks in large part to a five-year financial pledge by BTC, more informed diagnosis and treatment plans for sick kids in The Bahamas is now a reality. Six Caribbean countries are a part of this project – Bahamas, Barbados, Jamaica, Trinidad, St. Vincent and the Grenadines and St. Lucia.

Telemedicine generally refers to the use of communications and information technologies for the delivery of clinical care.

"As an island nation, Telemedicine has been in existence for some time throughout The Bahamas but this is the first Telemedicine equipped Oncology department dedicated to the specific care and treatment options for children with tumors; it is deemed critical to the advancement of diagnostic and treatment decisions," said BTC Vice President, Marketing, Brand and Communications, Eldri Ferguson-Mackey. "The Telemedicine Lab facilitates remote physician-patient tele-conferencing for medical diagnosis and treatment options for children with malignant tumors."

Dr. Corrine Sin Quee-Brown MD, MBBS, FACC is the Director of Paediatrics for the Cancer Centre. She said that Telecommunications has enhanced the ability to engage in clinical case consultation without the need for the patients to travel.

"Since launching these consultation sessions in September 2013 fifty-four cases have been discussed and 10 of these were from the Bahamas. The cases were primarily seeking a second opinion on the diagnosis/management of cancer cases, with fewer on blood disease. The financial saving is only a part of the picture. The ability to limit the displacement of patients and families is priceless.

"Funding is helping train health professionals in oncology, nursing, laboratory analysis, and pharmacy; provide consultation and diagnostic expertise; and improve outcomes by developing expanding access to diagnosis, treatment, and supportive care. The goal of the partnership is to ensure more children are able to survive their diagnosis, be cured and lead healthy, productive lives."

Dr. Sin Quee-Brown pointed to the case of 5 year-old Thevanno Glinton-Adderley for whom the telemedicine lab has made a life-saving difference. When debilitating headaches struck Thevanno, his mother Kimberley Glinton brought him to PMH where a CT Scan determined that he had a brain tumor. Local surgery was able to partially remove the tumor; however, it was determined too dangerous to extract completely in-country.

The case was introduced for study at the SickKids Telemedicine Lab's Case Conference. Local doctors exchanged ideas with experts abroad and were able to make invaluable connections resulting in a specialist from The Hospital for Sick Children in Toronto offering to perform the surgery and The Herbie Fund offering to cover costs.

According to Ms. Glinton, who was out of work at the time and welcomed the financial support, Thevanno received the surgery June 5th. All went smoothly and the financial assistance and foreign expertise were life-saving factors that wouldn't have been possible without the telemedicine lab.

"They got the entire tumor, he healed faster than ever and he is responsive, walking and talking. He is expected to fully recover and I know in God's name it will be well, but we couldn't have done it without the connections from Dr. Sin Quee-Brown and the SickKids programme." said Ms. Glinton.

She stated that collaboration between Bahamian and Canadian doctors allowed her and Thevanno to spend less time away from family, "We did many of the tests here before and after the surgery under the direction of the Canadian doctors. Dr. Drake in Canada ensured me that he is in contact with our labs and doctors here and can oversee. I have a little girl, and it is easier on all of us not having to be separated for so long. Now we are back, Thevanno is still getting the best care possible from here."

"I am glad that this programme is available and is helping those who are low in funds or unable to travel to receive the best quality in care," she said. "It is awesome"

Patient Care Education Rounds were also facilitated through the telecommunication network. These rounds provided nurses and inter-professionals working in SCI institutions with the knowledge base needed to safely care for children and adolescents receiving treatment for cancer or blood disorders while providing a forum for discussion. Five sessions have taken place to date with the following topics - "Nutrition in Paediatric Cancer", "Pain Management in Sickle Cell Disease", "Hydroxyurea in Sickle Cell Disease", "Childhood Leukeimia – Care of the Family and the Child" and the "Potential Interactions between Natural Health Products and Chemotherapy".

Telemedicine has proven to be a valuable tool to strengthen training by increasing the expertise of sub-specialists locally while promoting academic exchange in paediatric specialties. By building capacity through education to effectively manage paediatric patients with cancer and blood disorders, it is hoped this will result in a reduced gap in childhood survival between low and high-resource countries.

BTC's financial support was part of BTC's community donation programme to mark The Bahamas 40th Independence in addition to the ongoing aid it gives year-round to assist in nation building through the education and character building of Bahamian youth through sports, the arts and multiple educational disciplines.

BTC is the national leader in communications services. The Company offers a full suite of landline, broadband and mobile solutions for residential and enterprise customers. The Company launched the 'Upgrade Bahamas' initiative in November 2014, where $65M in capital expenditure is being deployed in the Company's networks.







© Copyright 2015 by thebahamasweekly.com

Top of Page