The benefits of four years of Premier League soccer camps on Grand Bahama are showing themselves on the YMCA field.
Hundreds of local children have had the chance to learn new skills from the professional coaches, some of them who have represented their countries at international level, and many of them can be seen in this year's program of school soccer.
Some of the matches at the pitch in Settlers Way have also attracted surprisingly large crowds as boys and girls have battled for honours – an indication of rapidly growing interest in the world's most-watched sport on this island.
The same children will get a chance to become even more skilful in a few short weeks when the camp returns on June 23. It will last for five days and will offer the usual 25 hours of quality coaching plus swimming. Additionally each child gets two full uniforms as well as lunch, fruit morning and afternoon and plenty to drink – and a great deal of fun!
"It has been really rewarding to watch the improved quality of games and the better skills levels on show this year," said Richard Malcolm, camp organizer and the liaison with the English Premier League, which , as the leading soccer league in the world, has been main sponsor over the years.
"It is no longer a game of hoofing the ball just anywhere and then running after it. Passing is more thoughtful and better executed, decent ball control is more common, and some players are taking a bit more time on the ball rather than joining the frenetic chase.
"None of the passion has been sacrificed though and clearly there is a great desire on behalf of teams to win bragging rights as top local soccer school.
"It is all great to see and I have already told the coaches that past efforts are being rewarded."
Malcolm and other organizers welcome the Premier League team on June 20 and will give them a day or two to acclimatize before starting work – not with children but by drilling the volunteer local coaches who do so much on the island year-round and also help at the camp.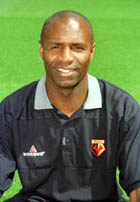 Luther Blissett

The group is led by Phil French, special advisor to the UK's Minister of Sport and a qualified coach in his limited spare time. Joining him once again will be record goal-scoring former England international Jamaica-born Luther Blissett and, it is hoped, former international defender Warren Barton, who was head coach at the first Premier League camp in 2004. Barton is now a leading TV sports personality in Europe.

Interest in the camp is very high – organizers have been approached about the dates by innumerable parents who want to build summer vacation plans but don't want to clash with the camp. The price is the same as last year and registration forms can be had from Town and Country in Yellow Pine Street or the rugby club on Settlers Way where the camp is held.

Parents can register now at either venue but organizers will be at the rugby club on Sunday June 22 for the main registration session when uniforms will be handed out.

Further information at derek.archer1@gmail.com or call Richard Malcolm at 373 5816.

*REGISTRATIONS FORMS are attached at the base of this article.

Related article:

Phil French to again lead the 2008 Grand Bahama Summer Soccer Camp

English Premier League Soccer Camp - the best yet! (2007 Camp)