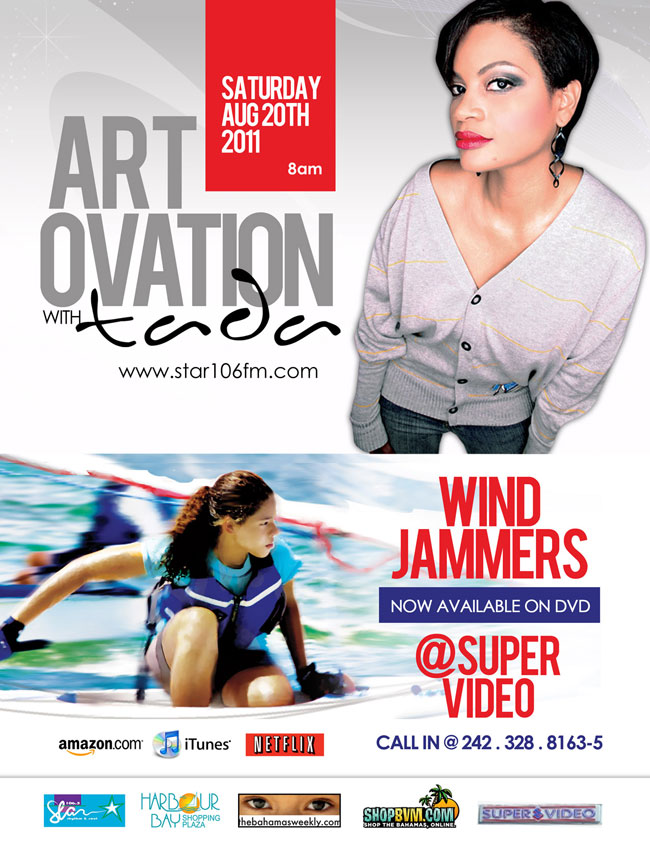 Nassau, Bahamas - ArtOvation with TaDa is a weekly one-hour radio show covering Issues, interviews and introspection related to the developing and emerging arts and entertainment industries of the Bahamas.

This Saturday, August 20th at 8am tune in to ArtOvation live on Star 106.5 FM

www.star106fm.com to hear from the Bahamian film, Wind Jammers. We'll have one of the directors and cast in studio.

2010 The Bahamas/USA
English
Narrative feature/88 minutes

Wind Jammers is the Bahamian made family movie directed by Kareem Mortimer and Ric von Maur. Wind Jammers is an independent film production about an American girl who learns to sail in The Bahamas but learns much more about herself and the world around her.

The movie is now available on DVD on Amazon or locally at Super Video in Nassau.

Film Synopsis: A young mixed race girl, Justice, moves to The Bahamas with her father and experiences a new culture. The family joins the local sailing club and discovers racial undercurrents. Although there are no rules against black members and most of the members don't mind, one influential member makes it difficult for the new family. Justice joins the sailing program and meets new friends. She loves sailing and decides to compete in the National Regatta. A 1964 Olympic Champion in sailing is impressed by Justice and recognizes that she can help change the attitudes of his beloved Bahamas and coaches her to be a first class sailor. Tension mounts as the influential member, worried that Justice will embarrass him, tries to get the family thrown off the island. Meanwhile, Justice meets a Bahamian boy and the two teach each other about their different cultures. In the end, Justice inspires everyone to rise above their petty differences and unites them as one people. One Bahamas!
Genre
Family Comedy
Studio
Rosetta Films/Stray Dogs/VON MAUR
About
A family comedy about a teenage girl who overcomes her insecurities.
Directed By
Kareem Mortimer & Ric von Maur
Screenplay By
Ric von Maur, Elliot Lowenstien & Michael Ray Brown
Produced By
Nick Huston, Paul Jarrett & Kareem Mortimer
Website
http://www.windjammersthemovie.com