Last Updated:

Feb 6, 2017 - 2:32:04 PM
---
Nassau, Bahamas - ArtOvation with TaDa is a weekly one-hour radio show covering issues, interviews and introspection related to the developing and emerging arts and entertainment industries of the Bahamas.


This

Saturday, July 9th at 8am

tune in to

ArtOvation

live

on Star 106.5 FM www.star106fm.com
Our guests will be Lashona Knowles an Erin Gray of the Natural Hair Care Launch & Mixer.



All U

is all about helping people

Love Their Hair

by embracing their natural kinks and curls. Whether you're a 'Kinky-Curly-Wavy-Afro' Bella,

All U

is giving the curlies' & naturalites the option to choose products for all hair types.

The First Bahamian Natural Hair Fashion Show and Launch hosted by Actress/philanthropist and Bahamian Naturalite Leah Eneas and music by Dion Da Butcha. Come meet Brandi Cohen host of Living no Lye, Debra Small owner of HPO (natural hair products), Naturalite Erin Gay of Marley Resort and LaShona Knowles of All U (Natural Hair Care).


This is anticipated to be two fabulous days of naturalistic fun.

DAY ONE (1): 7pm - 11pm

ADMISSION: FREE

DRESS: COSMO CHIC

All U's Launch & Mixer

* Hair Models featuring
- top Natural Hair Stylist displaying what's haute for fall and their best creative natural styling techniques
- modeling fashionable clothing from the N Fashion
- while rocking face art by Niandre Duncombe

*LIVE ON THE MAIN STAGE: BIG CHOP OR NOT

*Natural Hair Swag Bag on sale (limited Supply)

*Product and Accessories on sale

*Silent Auction Table - Funds will be given to "The Ranfurly Home for Children"

*All U's website exploration and natural hair speakers

*Lots of prizes and giveaways


DAY TWO (2) - RSVP (limited availability)4pm - 7pm

ADMISSION: $60 (per person) $100 (for two)

DRESS: Naturally Comfortable

Learn, Lounge and have a huetiful spa experience:

* Learn: A mini Seminar - About natural hair care, the latest tips ad techniques and brush up on your natural hair knowledge.

* Lounge: come with questions and learn from others

* Huetiful Spa Treatment: Experience a hair steaming unlike ever before: - Intensive Hydrative Mask which will:l
Restores moisture opens up your hair cuticle to allow the conditioners and hair treatments to work more effectively
Bathes your hair follicle with warm, ionized mist to replenish moisture lost from chemical or heat treatments
help reduces future breakage and split ends caused by dry hair

We anticipate this event to be the start of a 'Natural beginning for Natural Women' in the Bahamas.

Soooooooooooooo plan to join us both days or which ever will be your best day August 13th and 14th, 2011.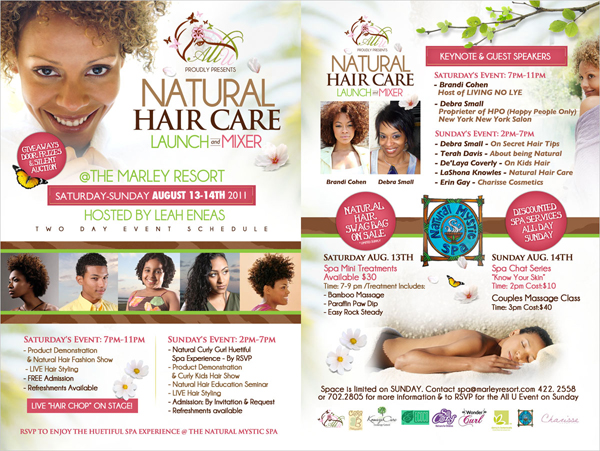 © Copyright 2011 by thebahamasweekly.com

Top of Page