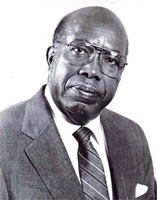 Nassau, Bahamas - The Cabinet Office wishes to advise that a State Funeral will be held for the late Sir Clifford Darling, former Governor-General of the Commonwealth of The Bahamas, Cabinet Minister, Parliamentarian and Trade Union Leader next Thursday, January 5, 2012 at 11:00 a.m. at Zion Baptist Church, East and Shirley Streets. Interment follows in the Western Cemetery.
Sir Clifford died on December 27. He was 89 years old. He is survived by his wife, Lady Igrid Darling, his children and other relatives.

His body will lie in State in the foyer of the House of Assembly at 2:30 p.m. from Tuesday, January 3 for public viewing until sunset on Wednesday, January 4. At 10:30 a.m. on Friday the Bearers' Party will take the body in procession from Parliament Square to the church.

All flags will be flown at half mast from Tuesday until the day of the funeral.

Further details regarding the state funeral will be released as information becomes available.

Related articles:
Sir Clifford Darling, The Bahamas 4th Governor General passes at 89
Statement by the Governor General on the passing of Sir Clifford Darling
Prime Minister Ingraham on the Passing of Sir Clifford Darling
Statement by Perry G Christie on passing of Sir Clifford Darling
PLP Deputy Leader Philip Brave Davis Statement on the Passing of Sir Clifford Darling