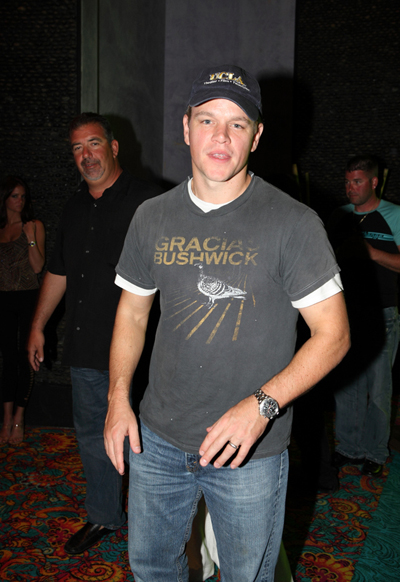 Actor, Matt Damon seen in Atlantis, Paradise Island, The Bahamas on February 14th, 2009. Photo: Tim Aylen


Paradise Island, The Bahamas - Atlantis is known to attract thousands of tourists on an ongoing basis. It is also a magnate for celebrities from all over the world.

Valentine's weekend, while Atlantis held their Concert Series featuring, Kelly Clarkson, Lily Allen, Secondhand Serenade and others, Matt Damon was seen visiting with his family.

Wikipedia: Matthew Paige Damon is an American actor and philanthropist. He won the Academy Award for Best Original Screenplay for his screenwriting in Good Will Hunting, and was nominated for his lead performance in the same film. Since the 1997 film, he has matched up with A-list actors in mainstream films.

Damon has starred in films such as Saving Private Ryan, The Talented Mr. Ripley, the Ocean's series, the Bourne series, Syriana, The Good Shepherd and The Departed. He has won multiple awards for his film performances and has received a star in the Hollywood Walk of Fame. Damon is one of the top twenty-five highest grossing actors of all time. In 2007, he was named Sexiest Man Alive by People magazine.

Damon has been actively involved in charitable work, including the ONE Campaign and H2O Africa Foundation. With his wife, Luciana Bozán Barroso, Damon has two daughters, Isabella and Gia, and stepdaughter Alexia from Barroso's prior marriage.