Be a Part of Her New Music Video
Angelique Sabrina, a Bahamian singer/songwriter, who hit the Bahamian music scene at age 12 with her song, "Roller Coaster Ride", and went global at age 13 with her song "13", has already accomplished major milestones in the short time she has been singing.
At the beginning of this year, she was voted #2 in two Top 10 Countdowns in Sydney, Australia and got the attention of major music moguls in the United States.

Now, she sets off to Los Angeles, California to shoot a video for her newest song, "Pull Up". The video is being shot by the world famous SkeeTV. But, before she goes, she wants to give viewers a chance to be a part of her video for the song. So, if you want to be in Angelique Sabrina's new video, subscribe to her new YouTube page, http://www.youtube.com/user/ AngeliqueSabrina/feed , view her video showing the dance to her song "Pull Up", then, submit a video response, to her video, of you doing your version of her Pull Up Dance. Videos may also be emailed to angeliquesabrina@gmail.com. The best and funniest videos will be chosen to be in her video.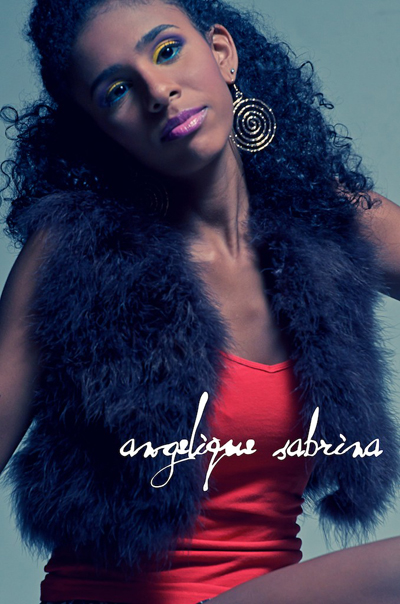 Angelique Sabrina, best known for her ballad "13" and her duet with Sketch Carey "Speakerbox", is a Pop-style singer with a flavor of the islands. Her songs range from message-oriented ballads to dance songs. In December and January of this year, she was in New York co-writing with International songwriters and producers while working on new songs for her first album, to be released this year. Angelique has also negotiated a major management agreement with radio industry legend Gary Bernstein of Syndication One radio network.
Angelique has received strong airplay here on all of our Bahamian radio stations, on KARRFM in California and on Australian radio stations 2RDJ-FM and Triple H FM . She has done a number of radio interviews here in Nassau and in Sydney, Australia. Additionally, she was interviewed for ZNS TV News. Furthermore, Angelique was featured in "Arise Bahamas", a new teen newspaper; Bahamaslocal.com; TheBahamasWeekly.com; bahamaislandsinfo.com, and in the Tribune.
Angelique Sabrina continues to develop her music career, and has even ventured into, another love of hers, acting. She encourages her peers to "always do what you love, follow your dreams, create your own resources, develop a support system and ask for guidance because that is how you will get ahead in life. "
Introducing 13 year old, Bahamian Singer / Songwriter‏, Angelique Sabrina
Visit her website: h t tp://angeliquesabrina.com/