I hoped that one day I might get the opportunity to meet Barbara Chester since only a small bit of ocean separates our two homes. Her passionate work had inspired me when I interviewed her for my article "The Grand Bahama Labyrinth" (The Spirit of Veriditas, Voices From the Labyrinth - Winter 2009, page 6).
Yet no one could have been more amazed by the Providence surrounding our meeting than me. Not until I noticed the small brown sign from my taxi's window pointing toward "The Garden of the Groves" did I realize that our last minute family vacation had brought me full circle to a moment of Grace.
We had just two days before we needed to be back on the boat headed home to Florida. Barbara and I had only communicated a couple of times via email months before. I wondered what she might think if I called her so unexpectedly. By the next afternoon, my family had grown weary of listening to me fret. They encouraged me to borrow the hotel's desk phone and try to find her. Soon, I was listening to Barbara's lovely British laughter on the other end of the line. She immediately rearranged her entire day and arrived to pick me a few hours later.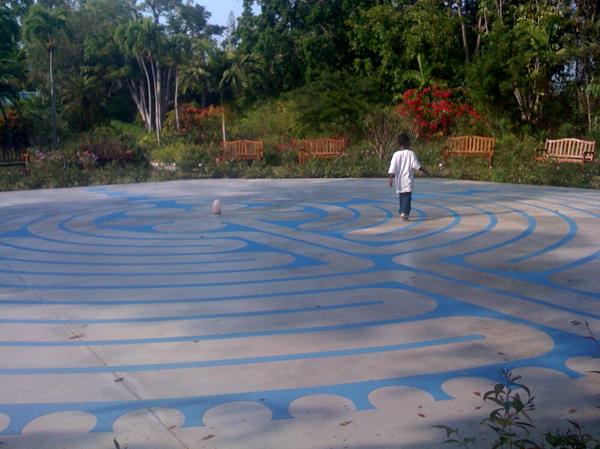 She stepped out of her little blue car, "Bonny Gatsby" and greeted me with a warm embrace. She surprised me with a gift bag filled with bath soap and lotion made with rosemary grown in the labyrinth's own Healing Garden. A pink Grand Bahama Labyrinth bookmark adorned with an orange butterfly and a quote by Thomas Moore reading, "I but know that I Love thee, whatever thou art" completed her thoughtful present. I knew I had connected with a special new friend.
As we drove to the labyrinth, Barbara shared some interesting history regarding the island that had been her permanent home since arriving in 1992 with her husband. Together, Jack and Barbara built the popular International Marina at Port Lucaya which I had noticed just across the street from our hotel. She told me how Wallace and Georgette Groves, the founders of Freeport Lucaya, had exported some of the long, straight native Casuarinas trees back home to England to be used as "pit props" for the coal mines. The Garden of the Groves was dedicated to their memory in 1973. Thanks to the tireless work of countless volunteers since then, it has become a twelve acre botanical paradise.
I soaked in each interesting detail she shared. I loved hearing how the chapel overlooking the labyrinth is a scaled replica of the Bahamian church that once served the logging town known then as Pine Ridge. When we actually arrived at the tiny stone chapel on the hill, I was captivated by its four abstract, towering wooden sculptures honoring the native Bahamian people. I loved touching the Autograph Tree beside the chapel's door and learning that its smooth leaves were once used as paper.
I slowly turned around from the chapel and faced the brilliant blue Eleven Circuit Chartres labyrinth spread out across its lush, green valley. Encircled by pink-blossomed Poor Man's Orchids, lovely Bottle Brush Trees and thick Crepe Myrtle, it felt like The Grand Bahama Labyrinth was waiting there just for me….
I followed Barbara past a small gazebo housing a statue of St. Francis of Assisi, the patron saint of the garden and all its inhabitants. We then walked across a green wooden bridge to arrive at a white trellis-arched entrance with bright blue lettering spelling "Labyrinth." Next, we wound along a stone-covered pathway past an old Banyan Tree whose branches had grown naturally into the shape of a large cross. A lovely statue of Mary overlooking a lily-covered reflecting pond stood in the western part of the Healing Garden. Dragonflies, hummingbirds and butterflies floated everywhere.
We traveled the herb-bordered path to the labyrinth where I was delighted to see a small boy with his family. I learned that bright-eyed little Daniel was three and that this was his first labyrinth walk. It was overwhelming to watch him run and skip exuberantly across the lines and then eventually settle into a quiet, contemplative rhythm of his own. Afterward, Daniel danced for my video camera, shouting "Cheers!" to me as he beamed his gorgeous smile. I marveled with joy at his t-shirt depicting the planet earth surrounded by bold lettering that read "THE FUTURE OF THE WORLD".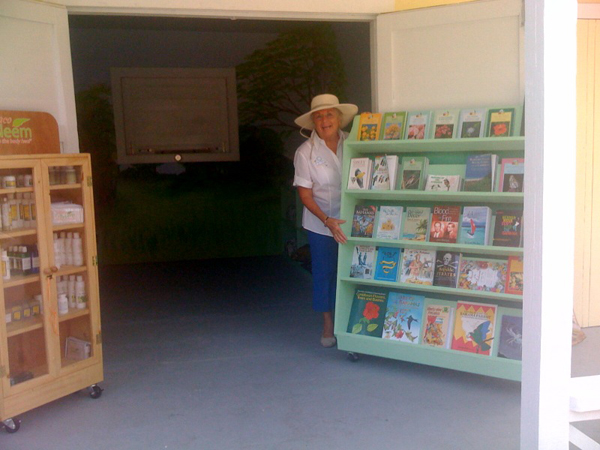 I removed my shoes and finally began my own walk. I reflected on the roughness of the labyrinth's unique texture against my bare feet, remembering that Barbara had told me how the island's own natural limestone had been mined and ground down to make its concrete base. Daniel followed me into the labyrinth and hand-in-hand, we walked the path. A statue of Quan Yin, the Bodhisattva associated with compassion and mercy, whose name translates "observing the cries of the world" kept watch over the two of us from the eastern end of the labyrinth.
Afterward, we all stood under the big Tamarind Tree and listened as Barbara and Daniel's grandmother exchanged Bahamian recipes. Barbara shared with me that the Circle of Life fundraiser for the Grand Bahama Humane Society had been very well attended on a full moon night in January. Valentine's Day had created the perfect backdrop for another unique event celebrating love for the planet. In March, a performance celebrating music and dance had welcomed over two hundred people.
Barbara's good friend, Robbin Whachell, editor of The Bahamas Weekly, arrived to take some pictures of the LABYRINTH LIBRARY LOGOWEAR store. Barbara unlocked the brand-new yellow clapboard shop. She raised its charming plantation shutters allowing the warm sunshine to highlight the exquisite garden murals painted throughout its interior. Shelves holding numerous books, bags, hats and clothing all sporting the Grand Bahama Labyrinth logo with its signature butterflies lined the walls. Together, we two "robins" helped her roll another sea-green display shelf filled with books and a glass cabinet containing Neem tea and more Labyrinth Healing Garden products out onto the cozy covered porch.
After the photos for the newspaper were taken, I had the honor of being the shop's very first customer. I chose a beautiful blue logo canvas book bag and a box of unique labyrinth stationary painted by a local artist. Barbara proudly presented me with a handwritten receipt and we all enjoyed the karma of the moment.
As our visit drew to a close, we shared cold glasses of Chardonnay and iced tropical tea at the bright pink and blue Garden Café built under the canopy of one of the garden's giant fig trees. Several more of Barbara's friends stopped by our table to greet her with warm hugs. It was no surprise to me that my new friend, "The Labyrinth Lady", was deeply loved by so many of her island neighbors. Resting there, I caught my breath with the awareness that Grace had spiraled and spilled back into my life once again thanks to the mysterious connecting power of the labyrinth.

To read the full publication this article was featured in CLICK HERE for the Veriditas' Journal Summer 2009 issue.

Visit www.Veriditas.org and Experience the Wisdom of the Labyrinth!

For more information on the Grand Bahama Labyrinth visit: www.GrandBahamaLabyrinth.com

Robin Bradley Hansel is a Certified Veriditas Labyrinth Facilitator living in South Florida. Her company, Labyrinth Wellness, LLC unites her professional training as a licensed physical therapist and a Pilates instructor with her creative spiritual pathway as a writer. www.labyrinthwellness.com