Last Updated:

Feb 6, 2017 - 2:32:04 PM
---
Freeport, Bahamas - Close to one hundred people came out to the Garden of the Groves as the full moon was rising in the sky on December 21st to enjoy and participate in Joie de Noel on and around the Grand Bahama Labyrinth.

Bundled warm on a clear and chilly evening guests were treated to piping hot chocolate with whip cream served by Dalia Feldman's family. Song sheets, candles and Christmas cookies were gratefully received as people sat around the Labyrinth on the park benches.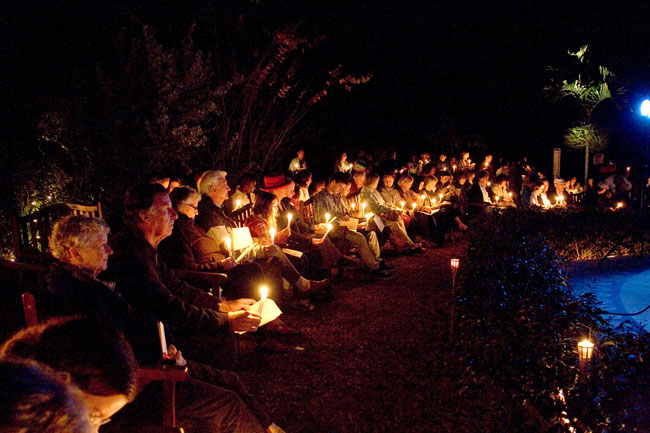 Founder of the Labyrinth, Barbara Chester opened the evening with a heartfelt introduction about the journey that Mary and Joseph made the night the Christ child was born, and how the Labyrinth itself represents that journey. Her story-telling was so enchanting and detailed that one felt as if that night could have been the same night experienced so long ago. She definitely infused the true meaning and spirit of Christmas.

The choral group, led by Marjoke Twiest came silently onto the Labyrinth carrying lit candles as their heavenly voices sang

Silent Night.

Seasoned professional, Dalia Feldman sang

Ave Maria

to candlelight with her angelic voice filling the Labyrinth with stillness and anticipation. A large Acacia tree, deep in the ground on the side of the Labyrinth, was lit to signify the Tree of Christmas, and when done so oohs and aahs were heard from the audience.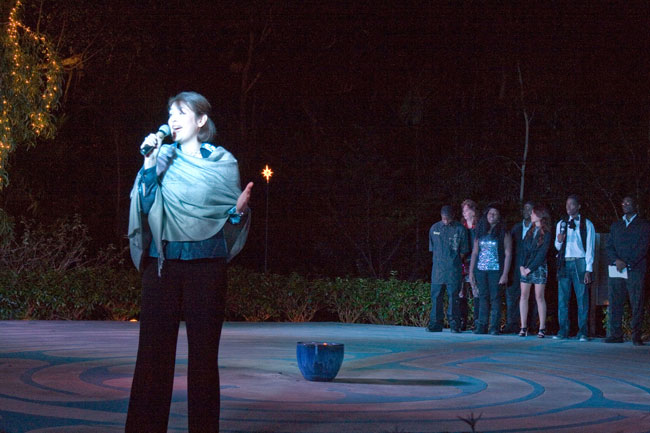 The choral group continued with solo numbers of Christmas classics new and old. James Roker sang

Peace on Earth

, followed by

Panis Angelicus

by Dora Brown, Marjoke Twiest and Javan Hunt. The strong singing voice of Javan Hunt delivered

Mary Did You Know

, and after that Marjoke Twiest sang the popular modern song,

Where Are You Christmas?

Fourteen year old newcomer Jackie Blower confidently sang

I'll Be Home For Christmas

.

A star was lit signifying the Star of Bethlehem while the choral group sang

We Three Kings

. Next the duo of James Roker and Dora Brown delivered a delightfully played out rendition of

Baby It's Cold Outside

.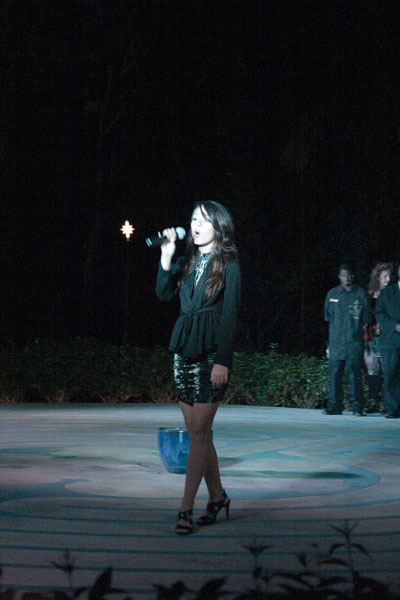 The crowd, eager to light their candles, did so next and the whole area became a magical place of light. The audience was invited to sing Christmas Carols along with the vocalists to complete the evening. After the carols guests were invited to send their written Christmas wishes to heaven by placing them into a lit urn in the center of the Labyrinth.

Event organizers would like to thank Marjoke Twiest's son Chris, a sound technician visiting from Holland for his assistance, as well as Jerry Hill, who created the star and was responsible for providing the sound and light equipment along with operating the lights for the show. The night was a joy to behold!





© Copyright 2010 by thebahamasweekly.com

Top of Page