Freeport, Bahamas -
On February 25th and 26th Grand Bahama's Dutch Diva, Marjoke Muller and her friends once again brought Song and Dance to the Labyrinth at the Garden of the Groves, the heart of Grand Bahama Island. This magical twilight garden has been further enhanced by additional diffused lighting illuminating the beautiful trees and shrubs.


Marjoke's Show was entitled,
Around the World in Song and Dance.
It was exactly that.
We were taken on a journey through America, Mexico, Spain, France, Italy, Holland and even to India where we were enthralled by a mystical performance of
Bollywood
by the Bahamas Dance Theatre.
More dancing was on the bill when the charming, talented Stephan Cartwright was joined by his young ladies for a very polished Bahamian song and dance routine.
Our hostess, Marjoke, lent her beautiful voice to the French lyrics of
Après Toi
; the Eurovision song Contest winning entry of 1972. A song of passion and deep emotion. More deep feeling was expressed in the words of Marjoke's melodic song from the Netherlands which she performed in Dutch, her first language;
Leun op mij
. Her friends accompanied her in song and in the knowledge that they could do as she said. (Lean on Me!)
Another poignant love song was presented by Tony Lowe who sang
Contigo en la Distancia
….in Spanish! He went on to perform in the style of the great Dean Martin, the very popular, World famous Italian song
Volare!

Tony's pleasing voice lends itself to these Latino songs, as it did in
Hero
, which he sang in duet with Dora Brown.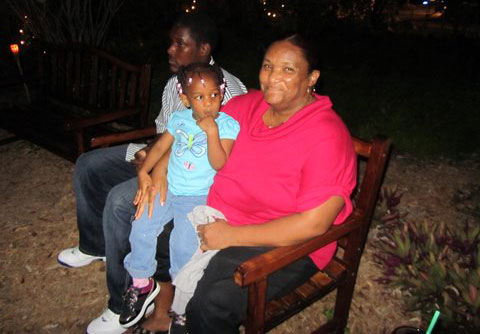 Dora, too, always delights her audiences with her performances, but she really surprised us by singing in fluent Dutch,
Kom vlieg met me mee
! Well done Dora!
The second duet of the show was performed by JJ (James) Roker and Daphne Fox who gave us their version of the Eros Ramazzotti and Tina Turner classic,
Coas de la Vida
. JJ sang in excellent Spanish whilst Daphne, in an exotic Tina Turner style outfit, sang the English version, written by Tina herself.
JJ enchanted the audience with his passionate singing in Spanish and English of the haunting Country and Western Latino favourite –
Before the Next Teardrop Falls
.
One of the very special performances of the show was by Joanna Llambias who captivated the audience by her portrayal of the great Edith Piaf Joanna's beautiful voice and well pronounced French words helped her capture the essence of the great Piaf, in her famous song,
Milord.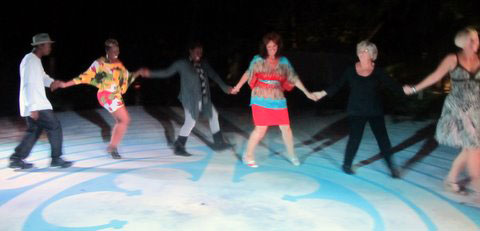 Marjoke introduced a lively
American Line Dance
and this was greatly enjoyed by the cast and some of the audience who happily joined in to the music of
Any Man of Mine
. A great song formerly sung by Shanie Twain but adopted by Marjoke for whom it could have been written!
There was more waltzing and dancing for everyone on the Labyrinth after Marjoke and friends brought the show to a close with the ever popular
Tulips from Amsterdam.
The acts were introduced by Barbara Chester who gave some interesting background, translation and meaning to the songs and the various countries with which they were connected.
Olivia Dorsett expertly dealt with the gremlins in the sound system and Alvin Smith controlled the lights. Once again, a lively show with audience participation and appreciation for all who took part.