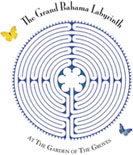 Freeport, Grand Bahama - A Walk for Peace, in light of Remembrance Day will be held at the Grand Bahama Labyrinth on November 11th at 11am sharp.

All are welcome to attend.

Barbara Chester, Founder of the Labyrinth invites those who feel drawn to our simple gathering next week, to come to the Labyrinth in the Garden of the Groves just before 11am when we will silently 'Remember them', Pray and Meditate on Love and Peace in our World.

Mrs Chester explains,

"I am writing this on November 1st; Diwali, the festival of Light. This day is better known to most Christians as All Saints' Day. Our Saints were, of course, our great ' Light Workers'; thus, once again, we see our fundamental connectedness when the boundaries of language and religion are discounted.
Diwali is also known as Deepawali - "deepa" in Sanskrit means "light" and "avali" means "a row." Diwali celebrations in India are very important; similar to Christmas and Hanukkah festivities in the west. There are actually five days of celebration, with Diwali, the third day, falling on the new moon night. This is considered an especially auspicious time for Lightworkers around the Globe.
Many of us feel a similar sense of importance in this celebration of light; and in focusing our beams strongly on the darkness on our Planet Earth.
In celebrating the light of our saintly ancestors, we soon have a special opportunity of emulating them on a special day for World Peace and Remembrance; Thursday 11th November 2010.
I invite those who feel drawn to our simple gathering to please join us.

"Peace is not merely a distant goal that we seek, but a means by which we arrive at that goal." Martin Luther King, Jr. Leader. 1929-1968)