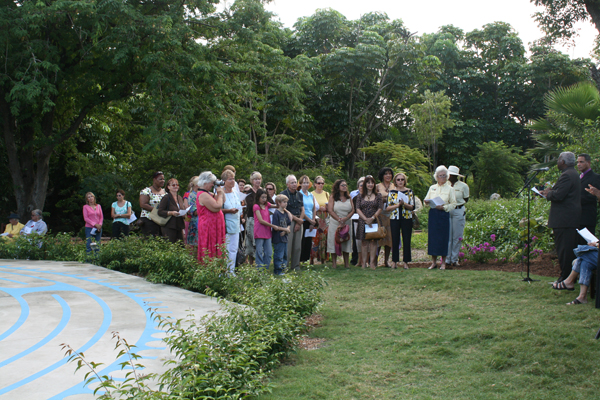 The gathering for the dedication of the new Grand Bahama Labyrinth at the Garden of the Groves. The only labyrinth in The Bahamas. Photo: Robbin Whachell


Grand Bahama Island - On Saturday, November 1st, the new Grand Bahama Labyrinth was Dedicated at the Garden of the Groves. People from the community gathered around the Labyrinth to listen to Reverend, Dr. J. Emmette Weir of Our Saviour Lutheran Church give the invocation. Musical selections were performed by the Bishop Michael Eldon High School Paradise Pans, Hazel Springer and Erica Weir of the Regency Singers accompanied by Lois Desaulniers, and Susan Jensen-Sweeting. Welcome remarks came by the founder of the GB Labyrinth, Mrs. Barbara Chester (see below) and remarks were also provided by Mrs. Erika Gates, president, Bahamas Parks, Gardens and Recreation (see below). Martha Cartwright read a scripture. Bishop Sobig Kemp, president of the Grand Bahama Christian Council led the official act of dedication standing in the center of the Labyrinth.

Grand Bahama's new Labyrinth at The Garden of The Groves — an exact replica of the most famous Labyrinth walked by early Christian pilgrims in Chartres Cathedral —was dedicated in a service led by Rev. Dr. J. Emmette Weir, and supported by Bishop Sobig Kemp, Chairman of the Christian Council, as well as members and representatives of all faiths and organizations in our community.

Everyone was welcome to this historical event.

All those congregated were invited to then walk the labyrinth at the completion of the ceremony, many for their first time. Refreshments provided by the Grand Bahama Ministry of Tourism were served at the Lofty Fig Deck.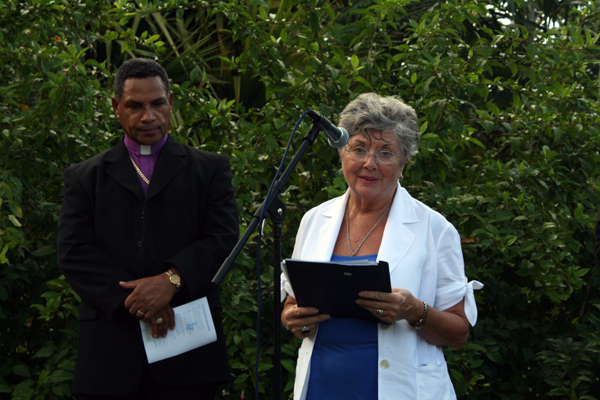 Welcome remarks by Mrs. Barbara Chester, founder of the labyrinth. Bishop Sobig Kemp at left. Photo: Robbin Whachell
Welcome remarks by Barbara Chester:
Good Afternoon Everyone!
'Every One' describes each of us….'Everyone' reminds us we a human group of Gods glorious creation.
Gathered here in this beautiful place we see other groups living in peace, side by side, supporting each other in joyful existence: as an example - the flowers, trees, shrubs….all enjoying the most fundamental of values -beauty and peace.
We humans with our higher intelligence have allowed ourselves to be wooed and pressured by a barrage of commercialism, advertising and outside influences causing us to focus our attention on the material! We have been pressured into riding rough -shod over our friends and family, to put ourselves first and keep up with the rat race of present day life.
We have forgotten that we are 'beings' and not 'doings'.
Forgotten to nurture our entire 'being' of body, soul and spirit and to hold onto our deep rooted connection with nature, with Mother Earth and with our divine Creator.
We now need to refocus on the most important gifts we have, but simply take for granted. Even our very breath of life.
We see … around us locally, and globally, a tremendous need for healing; a desperate cry for help and the need for Peace.
We now have a tool we can use!
A Labyrinth is a sacred tool in Creation…a path on which men, women and children can walk at their own pace to join with their Creator. To ask in prayer, to listen in meditation and to gratefully receive blessings and love from the Almighty and the Universe. It is a place to give thanks and to share celebrations and rituals.
Labyrinths have existed for thousands of years – since pre-historic times – and have been used by people of all races and faiths in sacred ceremonies, celebrations and supplications. They are variations on the theme of creation. Different peoples across this Globe had their own versions, but all Labyrinths were shown as a circle which replicated the planetary movements, and our World and even our very life circle.
Circles remind us of the One-ness of our connections with each other and with God. Indeed the circle actually depicted the number One until Zero was introduced in the eighth century!
In each Labyrinth there is a point of entry and a circuitous path to the centre – the holy place.
The early Christians created the most splendid Labyrinths; the most famous and spiritually all-encompassing was designed in accordance with the sacred geometry passed down by the Ancient Greek scholars and incorporated the spiritual symbolism of the wise theologians of the day; this was built into the magnificent Cathedral of Notre Dame de Chartres just outside Paris in France. It was built with the limestone quarried locally and moved by the villagers who actually acted as human beasts of burden! They harnessed themselves to their carts and pulled the stones about five miles over rough countryside.
This original Chartres Labyrinth, in place since 1201 was created for the early Pilgrims and represented their walk to Jerusalem, the Holy City. Pilgrims of all faiths have been walking the path together to pay homage, give thanks and receive blessings.
Over the centuries the Chartres Labyrinth has resurfaced when there was a particular need for healing in the World. Most recently it was uncovered by Rev. Dr. Lauren Artress some 15 years ago and is providing the model for many Labyrinths as their resurgence spreads across the Planet.
Today, this first and most famous Labyrinth in Chartres, France is still being polished by millions of Pilgrims' feet and knees as they travel from far and wide to walk the path…. It is this great historical path that we have used as our template.
We now have, in these beautiful Gardens, our own Chartres-style Labyrinth in a place which I believe was chosen by God Himself…..on our Island which is in need of healing, in a World desperate for Peace.
This is not just a beautiful attraction but a spiritual tool offering repair and renewal; joy and celebration; a sacred path for our community and visitors…to walk together in peace.
The Labyrinth carries its own message to each and every one of us.
I carry my message which is to tell you all that I feel proud, humble and very blessed to have been allowed to be a part of this wonderful project. I know I have been guided along my path and allowed to meet so many wonderful people who were where they were most needed to bring about this creation.
To all those friends, angels, illuminators thank you, thank you, thank you …not only from me but from our entire community who will surely benefit from this Historical Sacred Landmark in the beautiful Garden of the Groves.
Our Labyrinth has been created under God's direction by everyone for every one of all races and faiths.
All are welcome to freely walk the path.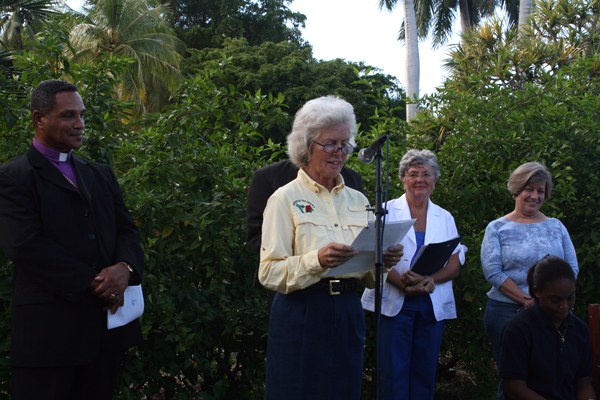 Mrs. Erika Gates gives remarks. Bishop Sobig Kemp to left, and Barbara Chester and Martha Cartwright to right. Photo: Robbin Whachell
The following are remarks made by Erika Gates, president of Bahamas Parks, Gardens and Recreation at the Dedication of the Labyrinth on Saturday, November 5th:
Barbara received her inspiration for the Labyrinth through a mutual friend of ours – Pastor Andreas Thode, who acted as the interim minister at Our Saviour Lutheran Church, where we both worship.
One Sunday Pastor Thode brought this folded up plastic shape of a labyrinth over on the Discovery from Miami so that our congregation could experience a walk on a labyrinth! As we squeezed ourselves along the crumpled, uneven path of this particular labyrinth which was stretched out on our church lawn, most of us thought "What a nice idea!"
But Barbara was totally fascinated and seemed to be deriving divine guidance during her first walk on a labyrinth.
However at the time she did not dream of having her masterpiece of a labyrinth to walk on, only two years later. She probably did not imagine either that her passion would take her from her Grand Bahama home across the Atlantic to France where she would study under Dr. Lauren Artress to become a Labyrinth Facilitator. And it was there in France at the Chartres Cathedral that Barbara decided she would personally begin a community project and build a labyrinth here on Grand Bahama. The island was in need of healing and peace ever since the devastation by the hurricanes. Barbara wanted the community to have a powerful place where this could occur.
When she approached Michelle and myself who had just committed to the GBPA to assist in restoring this beautiful Garden, we were absolutely delighted to let her have a little corner of this property for her project. Little did we know that Barbara would draw us into her project with her infectious enthusiasm as it is very difficult or almost impossible to say no to Barbara – I am sure those of you who know Barbara will agree with me! She is very inspiring, a hands-on person, gets down into the dirt, swings a pickax, shovels mulch and, wiping her brow with a dirty glove that leaves smudges of soil on her face, she will smile at you and ask you to please donate a bench so that the elderly can sit and find peace at the labyrinth! That's why we love you, Barbara, you never ask anything for yourself but you ask for others and your project - and who can refuse to give!
On behalf of Michelle and myself, I would like to express my appreciation and thanks to you, Barbara, and to your volunteers who gave of their time, talents and treasures. Together you have made such a wonderful and unique contribution to the Garden and the Grand Bahama community.
In closing, I would like to thank all of you who have come out today to share this special day with us here at the Labyrinth at the Garden of the Groves. I hope that you may continue to come out and enjoy the many facets of the Garden in the future. Michelle and I and our team have restored the Garden for the community, Julie and her staff at the café and bar do their utmost to please, Chantal, Claudette and Antonius have created an exclusive little Gallery in the chapel and Barbara and her group have put this Labyrinth in place. However, all these wonderful places in the Garden can only continue to exist if they are supported by you, the community!
Thank you
- Labyrinths are sacred paths of healing for all people of all faiths; a walk of prayer and meditation, reconnecting us with God and all creation: a place of healing and peace for our people, our island, and our planet. This beautiful Labyrinth and surrounding Healing Garden have been created as a gift by many generous members of our community, for the community, and will also add a lovely new reason to visit the island for the many people worldwide who have a renewed interest in these walking paths of grace and contemplation.-
All love and donations toward completion and upkeep of this new path are gratefully received at GB Labyrinth, F-42633, Freeport, Bahamas, 242.373-6026. Contact by email Grandbahamalabyrinth@gmail.com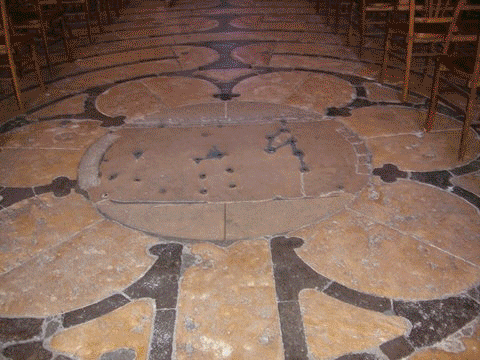 The idea for a Labyrinth was spawned by a visit to France. The first image is the original early Christian Labyrinth in Notre Dame de Chartres Cathedral, built in accordance with Sacred Geometry and walked by the early Pilgrims. Erika and Michelle gave us space at the Garden of the Groves and we cleared the ground by April 2008; Greg Farrington poured the concrete base in May; in June, Labyrinth expert, Judy Hopen came to lead in the creation of the Labyrinth with many community members assisting; once complete an intimate gathering of friends came together to bless the labyrinth and walk it in July. The concrete was chosen to match the colour of land-snail-shells... and the 'field' was pasted into the concrete in a special material made of ground granite and coloured to our specifications. The manufacturers named it 'Bahama Blue'!
RELATED ARTICLES:
An Update on the Grand Bahama Labyrinth
The Creation of the Grand Bahama Labyrinth
Grand Bahama Labyrinth Announced
An Introduction to the Labyrinth