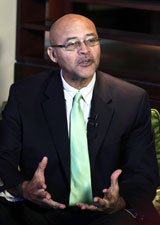 Ministry of Tourism officials are celebrating the country's success in seeing a positive turnaround in air arrivals over the first quarter of the year.
In April, it was reported that air arrivals soared by just over 12 per cent for Nassau and Grand Bahama over the same period last year.
Grand Bahama itself saw air arrivals increase by 33 per cent over the same period.
The Out Islands also saw an increase of air arrivals by four per cent.
Overall, air arrivals for the entire Bahamas grew by 3.1 per cent.
Director of Airlift in the Ministry of Tourism Tyrone Sawyer explained that in its push to ensure that increased airlift is experienced throughout the Bahamian archipelago, the ministry is happy to announce that Air Canada in May introduced a once a week charter flight on a A-320 jet with a seating capacity of 148 to San Salvador from Montreal on behalf of Club Med.
He said Grand Bahama is also experiencing an increase in airlift via the nation's national flag carrier.
"Bahamasair is operating scheduled services from May 2014 – October 2014 into Grand Bahama Island with two flights per week from six U.S. cities: Newark, New Jersey; Baltimore, Maryland; Richmond, Virginia; Raleigh, North Carolina; Birmingham Alabama; Memphis, Tennessee; Columbus Ohio and Cincinnati, Ohio," Mr. Sawyer said.
In the first quarter of the year hotel occupancies also flourished to 60.1 per cent for The Bahamas overall, 64.4 per cent for Nassau/Paradise Island, 56.6 per cent for Grand Bahama and 45.8 per cent for the Out Islands.
Officials have been working to increase economic stimulus activities throughout The Bahamas.
In May, The Bahamas sold out tickets to the IAAF track and field meet, which saw athletes and visitors from all over the world pack the Thomas A. Robinson stadium.
Soon after, legendary NFL Quarterback Dan Marino travelled to The Bahamas to host Marino and Friends Bahamas Weekend.
On the Religious Tourism side, in April Grammy-award winning gospel artist Hezekiah Walker helped the Ministry of Tourism celebrate its 50th anniversary with a well-attended concert held at Clifford Park.
Minister of Tourism Obie Wilchcombe credits the rise in stopover arrivals to the successful promotional events.
"This shows that all the work the Ministry of Tourism is doing is not in vain," he said.
"We are working hard to grow the tourism industry through our promotions through the development of our niche markets like sports, religious and culinary tourism and the list goes on. Our marketing efforts are doubling through social media. We are growing, we're going to continue to grow and take our place as the top destination in the region."