The People to People program has tapped into a new source for attracting visitors to experience the cultural exchange program – referrals from travel agents and consultants.
Francine Lowe, a travel consultant based in Atlanta, learned about the program from People to People manager Bernadette Bastian when she attended the Vacation Express travel trade show early in the year. She was intrigued by the program and wanted to experience it herself.
Soon after their meeting in Atlanta, Ms. Lowe visited Nassau on a cruise and was introduced to Lovern Wildgoose, a People to People Ambassador for more than 20 years. She hosted Ms. Lowe to a home-cooked meal in her home and spoke to her about the Bahamian culture.
"I didn't know exactly what to expect but coming here today, I felt like royalty," Ms. Lowe said while at Ms. Wildgoose's home. "We were greeted and taken here and felt warm and comfortable and got to experience the typical family meal and home environment. That kind of thing."
Ms. Lowe said taking part in the program made her see that People to People is another way her clients could experience a different side of the Bahamas. In addition to shopping, touring and lying on beaches, visitors could learn about The Bahamas in a more intimate way, she said.
"I will definitely recommend it to my clients when they come to The Bahamas," she said. "I learned that it is not only share a meal. It was also go to church or to a function. It is obviously a program the travel agents should know more about because I did not know about it until I met Ms. Bastian."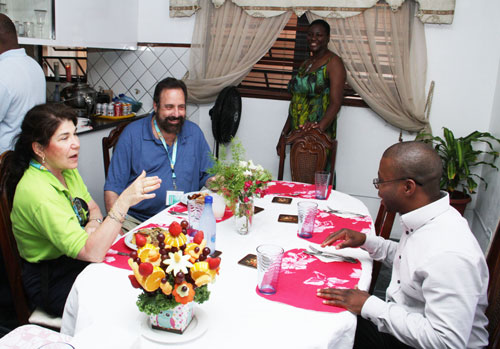 Enjoying a meal at the home of Lovern Wildgoose (standing). (Photo: Derek Smith/BIS)


Ms. Bastian said it makes sense to work with travel agents since they are able to suggest the program to clients. She said People to People gives even greater value to a Bahamas vacation, allowing guests to make personal connections with hosts such as Ms. Wildgoose.

Ms. Wildgoose said she loves the program because she loves to entertain gusts and she loves to cook for others.

"Most of my guests, once I bring them to my house for dinner, they want to come back," she said, adding that most people prefer her cooking over sitting in a restaurant.

Ms. Wildgoose recalled hosting several special guests, including a visitor from Germany who got married in The Bahamas and continues to vacation here. As president of the Cancer Society of The Bahamas, she was also happy to host a cancer survivor whose husband surprised her by enrolling her for a People to People experience.

"Today, I have another special guest," she said. "They are all special, but because she, Cindy, had cancer, I think that made it more special. But all of the guests are special to me and I don't think I have had a guest who was disgruntled ever."

Ms. Wildgoose said she will continue with the program, ensuring that guests leave The Bahamas happy.