Last Updated:

Feb 13, 2017 - 1:45:37 AM
---
Team Bahamas Feels Confident of Victory

Miami, Florida -

It's certainly not his first time competing at the prestigious culinary competition Taste of the Caribbean, but Junior Chef Dwayne Sinclair has not lost the butterflies that brought him back for a third year.

Sinclair is no stranger to the culinary scene – especially in The Bahamas.

The 20-year-old Lincoln Culinary graduate has won young chef of The Bahamas for two consecutive years.

He also competed in a number of ACF competitions and other competitions in the United States.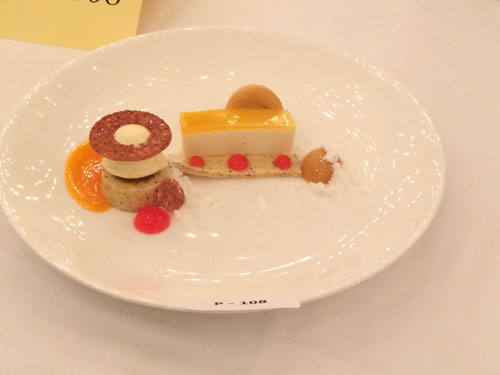 But Sinclair says what keeps him competing is the bond he has with the rest of the national culinary team.

"Honestly, I have to say that I look forward to this competition every year. Being on the team with such experienced senior chefs, I learn so much from them and they have made me like their little brother," he said.

Sinclair is nearly at the age limit to be a junior chef. But he says that will not stop him from competing.

He intends to take on the challenge as a senior chef when the opportunity presents itself.

For his dish for Taste of the Caribbean, Sinclair made an island spice rub beef, tamarind sauce, lobster medallions over a bed of sautéed spinach leek, infused with coconut milk, plantain croquette, topped with fresh fruit salad.

Judges seemed to take to the dish when critiquing.

However, Sinclair is only one of the seven-member team that competed yesterday.

Chef Sheldon Tracey Sweeting, who is also team captain this year, felt very confident that he would take home the Pastry Chef of the Year award.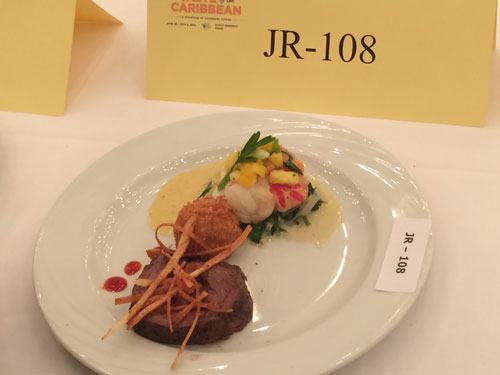 If so, it would be his second consecutive year to claim the top prize.

"The judges basically told me that I was flawless and a lot of the competitors should follow my lead in terms of organization. My dish was basically Caribbean flavours like sour sop, passion fruit, mangoes, watermelon, coconut and trying to keep it local," Chef Sweeting said.

Chef Sweeting would tell you that he's not a pastry chef by trade, but rather he studied to be the reigning champion of Pastry of the Year.

Though competition is fierce, Chef Sweeting said he feels no pressure.

"I'm not feeling any pressure because all I can do is my best. I put out there whatever I wanted to do and however it is perceived then it's perceived," Chef Sweeting said.

Other chefs who competed on Tuesday were Chefs Richmond Fowler and Charon McKenzie.

Chef Fowler competed in the seafood competition, while Chef McKenzie competed in the beef competition.

They both came out of their competitions confident of a win.

"I think I did fairly well," Chef Fowler said. "It was so amazing that the same products I was practicing with at practice were what was used," Chef Fowler said.

"Being on The Bahamas' team feels great. You get to meet new chefs and it feels like a family."

Chef McKenzie had similar sentiments.

"As far as I can see, the competition is going very well. When I finished my beef competition, the judges said I was spot on. So I was really happy about that," he said.

Chef Jamal Small and Mixologist Marv Cunningham are up next to compete for chef of the year and bartender of the year respectively.

The National Culinary team has been competing in the Taste of the Caribbean since Sunday at the Hyatt Regency Miami in Miami, Florida.

The winners of the competition will be announced at a special gala this week.








© Copyright 2014 by thebahamasweekly.com

Top of Page