Grand Bahama Island, Bahamas - September 2nd, for the first time in history, the world's largest Christian Television Network, reaching over one billion viewers worldwide, Trinity Broadcasting Network (TBN), hosted a live recording for its Praise The Lord TV show in Freeport, Bahamas. Of the sixteen destinations that are marketed by the Ministry of Tourism, TBN's destination of choice was Grand Bahama Island. The selected venue, the Great Lawn at the Grand Lucayan Resort, with its breathtaking ocean view backdrop and warm island breeze, set the stage for a night of sweet revival.
Hundreds of locals and visitors attended as hosts Laurie and Matt Crouch, along with internationally acclaimed gospel ministers; Johnathan McKnight, Samuel Rodriguez, Donnie McClurkin and Smokie Norful took to the stage. A number of Bahamian gospel ministers lifted the spirits of the worshipers adding credence to the adage that "The Bahamas is the place where God lives". Of the ministers were Presidents of the Bahamas Christian Council, Dr. Ranford Patterson and Pastor Peter Pinder of Grand Bahama; Apostles Henry and Anne Higgins, Pastor Eddie Victor, The Cooling Waters, Simeon Outten & the New Life Singers and many more. Through the preached word, song and dance, the evening showed billions of viewers just why "It's Better in The Bahamas".
This event comes at a time when Grand Bahama's Tourism economy is experiencing phenomenal growth. An increase in air arrivals by approximately 33% is one strong indicator of an economic revival. According to Manager for Religious Tourism, Debbie Huyler "the mileage and exposure that we will gain from this opportunity is priceless. Grand Bahama is now being placed on the map to be identified as a unique destination and a royal gem within a chain of islands". With the affinity that has been developed for the island by the religious market, Grand Bahama remains the choice destination for repeat International religious events such as Dr. Myles Munroe's Global Leadership Summit and Angela Pipersburgh's International Womens Summitt.
Photo credit: Jenny Russell, The Freeport News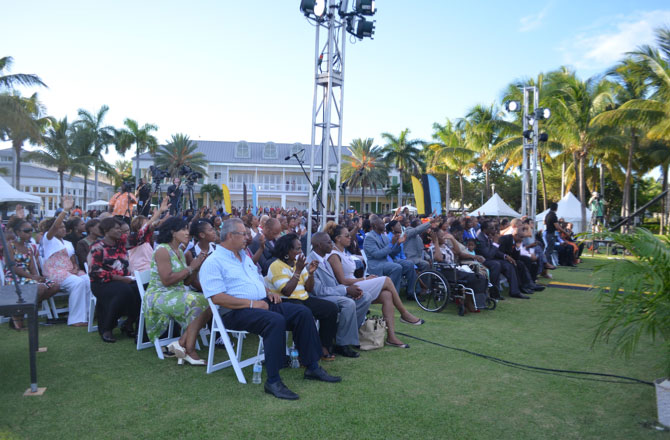 Photo: Jenny Russell, The Freeport News